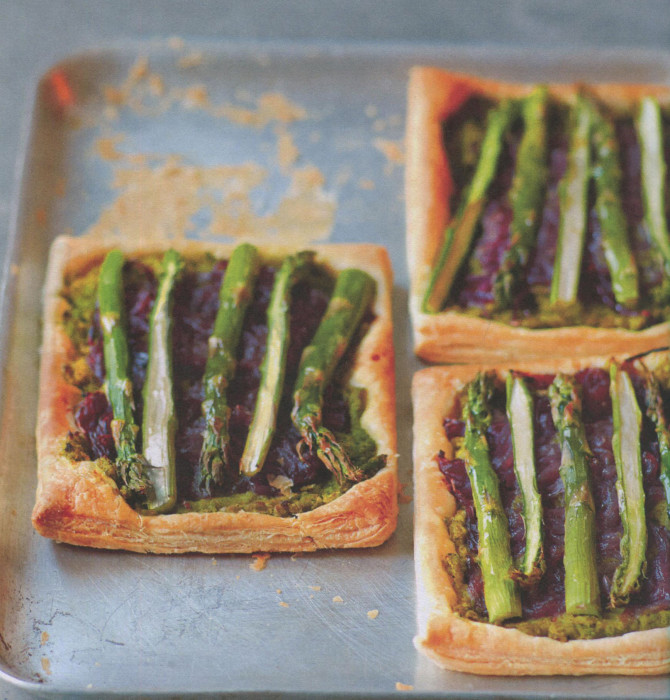 From a few years ago, here is a lovely spring recipe: asparagus, peas, and onions sitting on top of puff pastry. It's a rich and satisfying introduction to the new season. And filled with color beyond the flavor!
………………………………………………………………….
It is spring and there is asparagus in the air. Well, it's really in the ground and then on the truck and finally on our store shelves. It can take a person decades to become an asparagus addict, but it will happen.
And, spring is the time for peas. While this recipe calls for frozen peas, you can, of course, employ fresh ones — peas and corn are the two veggies that really can survive a deep freeze expedition.
This recipe combines that asparagus and those peas with the consummate veggie component: caramelized onions. You can enjoy this tart for your dinner, but I think they are best offered by dividing them up and letting little bits be appetizers for your next party.
I had to laugh just a bit here. This recipe comes from Keep It Vegan by Aine Carlin and she's very seriously vegan. So, when I saw one ingredient listed as puff pastry from the store, I buckled. Wait, puff pastry comes from butter and butter is dairy and dairy ≠ vegan. I think there is just a left out word. You can actually buy vegan puff pastry. When Suzen and I make this, it will be conservatively traditional with puff pastry ala butter.
Either way, expect the asparagus, peas, mint and caramelized onions to fashion a flavor flood that will overwhelm the pastry.
---
Asparagus, Minted Peas, and Caramelized Red Onion Tart
Yield: serves 4
Ingredients:
For the caramelized onions:
3 tablespoons olive oil
4 red onions, finely sliced
Salt and freshly ground black pepper
1 teaspoon dried thyme
1 tablespoon sugar
Dash of red wine vinegar
For the pea purée:
3 ¼ cups frozen peas
¾ cup fresh mint leaves, roughly chopped, plus extra to garnish
2 tablespoons olive oil
Juice of 1 lemon
Other elements:
One 13 ½ x 8 ½ inch sheet rolled puff pastry
11 ounces asparagus spears, halved lengthwise
Olive oil, to drizzle
Grated zest of 1 lemon
Coarse sea salt
Preparation:
For the onions, heat 2 tablespoons of the oil in a medium, non-stick, heavy- bottomed frying pan. Add the onions and season with salt and pepper. Cook for several minutes before sprinkling with the dried thyme and sugar. Once the onions begin to soften, add a dash of red wine vinegar. Add the remaining oil if necessary and let cook gently for 30 minutes until completely soft.
Meanwhile, to make the pea puree, place the peas in a bowl, cover with freshly boiled water, and let sit for a few minutes. Drain the peas and place in a food processor along with the chopped mint, olive oil, and lemon juice. Season and process to form a coarse puree. Set aside.
Preheat the oven to 400°F. Cut the pastry sheet into 4 equal rectangles and place on 2 baking sheets.
Leaving about a ½ inch border around the edge of each pastry rectangle, spread a quarter of the pea puree over each square followed by a quarter of the caramelized onions. Arrange the halved asparagus spears over the onions—you should be able to fit 5 halves on each tart. Drizzle with a little olive oil, season, and bake in the oven for 25 to 30 minutes.
Finish with the lemon zest, a fine sprinkling of freshly chopped mint, and a pinch of coarse sea salt. Serve warm. These tarts are delicious served alongside an arugula and avocado salad.
Source for both recipe and photo: Keep It Vegan [Running Press, 2015]