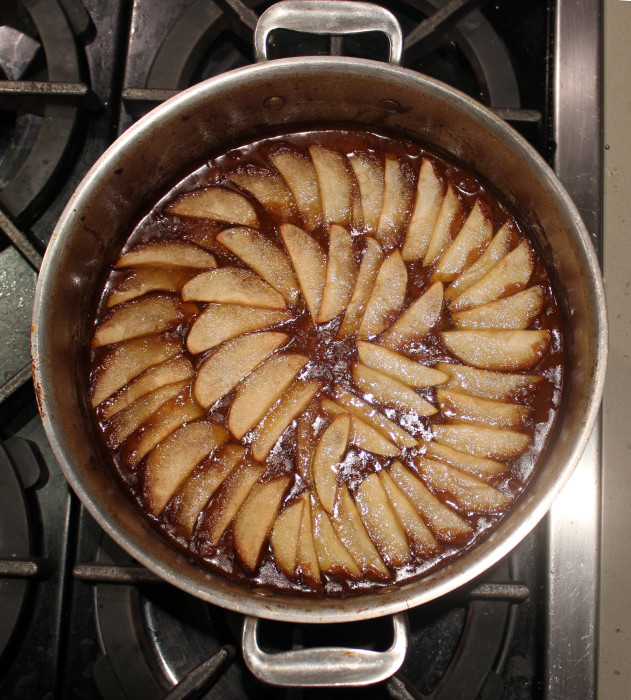 Today's Throwback Thursday Recipe is one you have to make. A year ago, it was twenty degees colder here in NYC but I suspect that chill will return. When it does, this is a recipe that will simply delight you.
Cold Weather Cooking by Sarah Leah Chase has just been reissued by Workman Press. Sarah has been author, chef, and caterer. Her catering skills are on display here in this beautiful rendition of baked beans. The circles of that apple rum crust on top are immediately inviting.
The beans themselves are Sarah's riff on this New England staple. Often now our baked bean recipes compete for the ultimate in sweetness or heat or both. The flavors here are muted, temperate and quite lovely. There is some molasses sweetness. Some heat from the mustard and vinegar. But the beans themselves provide the central flavor — frosted here, of course, with the punch of salt pork.
These beans are hardly muted, but they do have the balance that you may have missed. It's here in abundance.
Yesterday, as we enjoyed these beans, the chill factor outside was about 10°. We did not notice.
Oh, this recipe calls for soaking the beans overnight. There is a second technique that you can use for "same day" beans. Bring a stockpot filled with cold water to a boil, add the beans, and cook for 2 mintues. Remove from the heat, cover, and allow to soak for about 1 hour. Then drain the beans into a colander and rinse thoroughly. You are good to go.
---
Baked Beans with an Apple Rum Crust

Yield: serves 6

Ingredients:

For the beans:

1 pound navy or white pea beans
1 large onion, minced
2 cloves garlic, minced
2 tablespoons minced fresh ginger
2 tablespoons tomato paste
2 tablespoons balsamic vinegar
⅔ cup dark molasses
1 tablespoon dry mustard
1 ½ teaspoons salt
1 bottle (12 ounces) beer
8 ounces salt pork (in one chunk)
8 whole cloves
For the crust:

2 large Granny Smith apples, peeled, cored, and thinly sliced
4 tablespoons (½ stick) unsalted butter, melted
¼ cup (packed) light brown sugar
¼ cup dark rum
Preparation:

At least one day before serving the beans, pick over the beans tor pebbles, place them in a large bowl, cover with cold water, and let soak overnight.
The next day rinse and drain the beans. Place them in a pot and cover with fresh water. Bring to a boil, then simmer uncovered until the beans are barely tender and the skins begin to pop, about 45 minutes. Drain the beans, reserving the cooking liquid.
Preheat the oven to 300°F.
Place the cooked beans in a 2'quart casserole. Add the onion, garlic, ginger, tomato paste, vinegar, molasses, dry mustard, and salt; stir to mix well. Add the beer and enough of the reserved cooking liquid to cover the beans generously. Score the salt pork in a grid pattern with a sharp knife. Stick the whole cloves at random into the salt pork and bury it in the center of the beans.
Cover the casserole and bake 5 hours, giving the beans a stir every now and again. Add more of the reserved cooking liquid if necessary to keep the beans just covered with liquid.
Uncover the beans. Arrange the apple slices in concentric circles (as if you were making an apple tart) over the top of the beans. In a small bowl stir together the melted butter, brown sugar, and rum until smooth. Pour over the apple slices. Bake the beans uncovered for another hour. Serve hot. (The beans are also excellent reheated in the days to follow.)
Makes 6 servings
Source: Rice: Cold Weather Cooking by Sarah Lean Chase [Workman, 2014]

Photo Information: Canon T2i, EFS 60mm Macro Lens, F/3.5 for 1/30th second at ISO 320