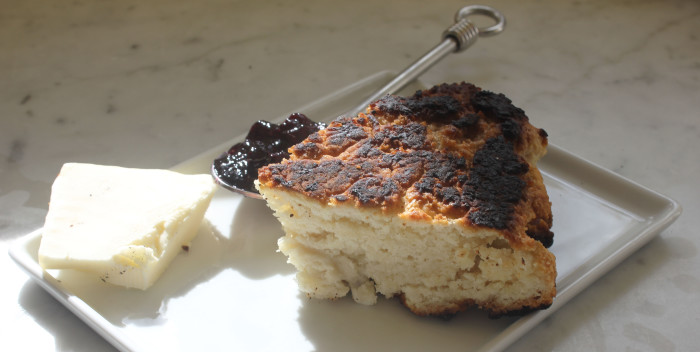 How do you start the new year? With bread. Not baked in the oven but cooked like a giant scone on your stovetop. We made this five years ago and we revisit this bread with every winter storm.
---
How do you judge a cookbook? Look? Pictures? Comfort factor of recipes? Excitement of new recipes?
Suzen and I use all those techniques but we also apply the "first recipe in the book test." We open a book to the very first recipe and we make it. What better way to begin to trust a cookbook than to discover that the first tastes are excellent.
In Home Made Winter Yvette van Boven must have her Irish childhood on display in this "first in the book" recipe. This is like a giant scone, or biscuit, cooked on the stovetop — not baked in the oven! It's fast. Unlike biscuits or scones, you don't roll out the dough and cut or shape individual bites. You don't even drop it in clusters. Just make the dough, form a round, place in a skillet, and cook away.
We used a new cast iron skillet and the bottom side, which I did not photograph, got a little burnt. You want to use a well-seasoned skillet and keep the heat down. We have an industrial-style gas stove and our "high" is really, really "make it black" high. Normal high is good. Normal medium might extend the cooking time a tad.
Yvette, being European, suggests serving this with clotted cream or Devonshire cream with berries. That's a lovely idea, but I went for my butter and Maine blueberry jam. Suzen was content to eat this all on its own. However, you serve this, with coffee it is a complete breakfast. With a side of bacon or sausage, it's a feast.
If you tend to be sleepy in the morning, before the espresso has taken effect, then this is the ideal recipe. No thinking. No complicated steps. Just pour, mix, mound, and cook. You could do this with your eyes closed.
Ah, I think this recipe is worthy of experimentation. Try embedding some berries, say blueberries or blackberries since it is so close to being a scone. Or, add some cinnamon. Or just enjoy its superb clean flavor on your next morning, be it weekday or weekend.
---
Bannock Bread
Yield: serves 6
Ingredients:
2 cups all-purpose flour
2 tablespoons sugar
½ teaspoon baking powder
½ teaspoon baking soda
½ teaspoon salt
3 tablespoons butter, plus more for the pan
1 cup buttermilk
Preparation:
Combine the dry ingredients in a bowl. Cut in the butter until the mixture resembles a coarse meal, then quickly stir in the buttermilk until the dough is nicely smooth and compact. Don't knead too long or the bread will become tough. It should be crumbly, much like a scone.
Pat it into a flat round loaf that will fit in a medium-size skillet [we used an 8" cast iron skillet].
Melt some butter in the skillet over high heat. Let the pan become very hot, then place the dough in the pan. After about 6-7 minutes, when the bottom starts to turn golden brown, you can gently turn the bread and cook it for another 7 minutes on the other side.
Let the bread cool slightly on a paper towel and cut it into wedges to serve.
Photo Information [top picture]: Canon T2i, EFS 60 mm Macro Lens, F/10 for 1/50th second at ISO‑100
Photo Information [bottom picture]: Canon T2i, EFS 60 mm Macro Lens, F/11 for 1/50th second at ISO‑3200