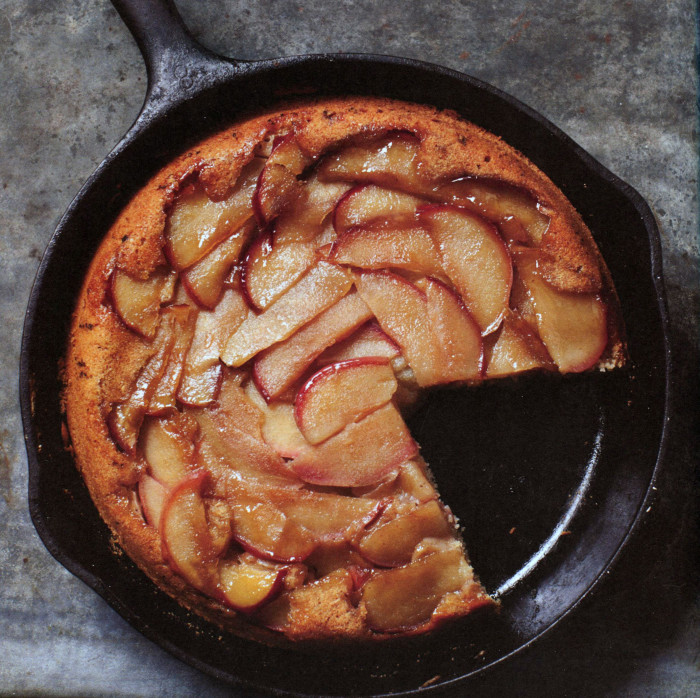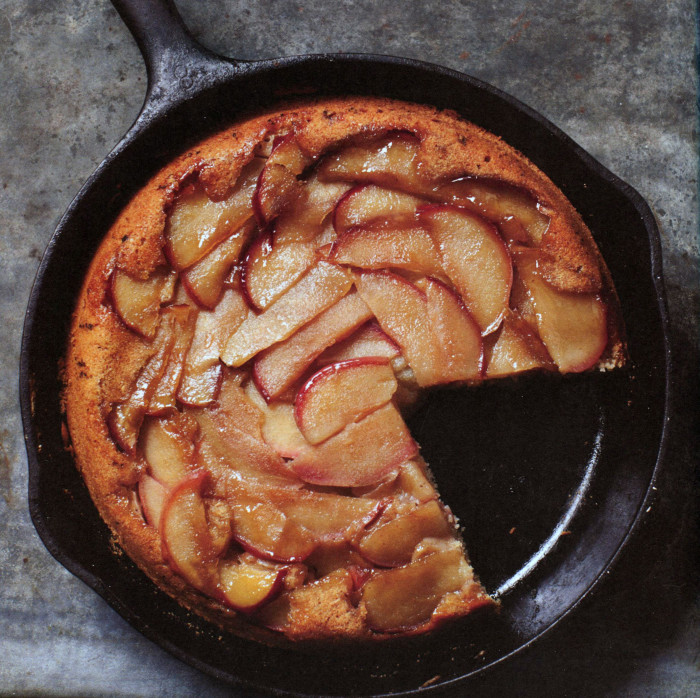 I feel guilty. My bird feeders are almost empty. I need to fill them. There is a strong wind, a wind chill factor near zero, and snow on the way. Winter is definitely still with us. We need great winter meals, including desserts.  From five years ago, here's a recipe that will take the chill right out of your life!
---
---
This past Monday I reviewed the book Bittersweet, a volume dedicated to winter desserts using "in-season" fruits, like those fall apples that have been gently stored and allowed to intensify in flavor.
This Sunday it is again still winter, again still bitterly cold. And again, we could benefit from a hearty dessert. Here's a perfectly rich and lovely dessert for a Saturday or Sunday night. Apple and apple cider, maple syrup, spices: what more could you ask for. This is not an upside-down cake but it will resemble one for sure.
Hopefully, you have a cast-iron pan, for the intense, almost foundry-like heat a cast iron pan provides is important to the transformation from cake batter to cake cooked.
There is apple cider employed here. You can trade off some, but not all, of the cider with calvados for an intensified flavor with vaporish alcohol infusing the cake.
At the end of a family Sunday meal, this is a memorable dish. Bring the cast iron skillet to the table, cut and serve from the skillet directly to the plate.
You want to serve something with this? Oh, my. Cinnamon whipped cream or even cinnamon ice cream would be over the top. And isn't the purpose of Sunday dinner?
Suzen and I have not had the chance to make this dish yet, but it's high on our list. Suzen has a portfolio of cast iron skillets and treats each with tender care. Even if they are cast iron!
---
Cast-Iron Apple Cake with Maple Brown Butter
Yield: one 10-inch cake, enough for 6-8 persons, including seconds.
Ingredients:
For the topping:
1 pound (450 g) red-skinned baking apples (2 to 3), like Jonagold, Braeburn, Rome Beauty, and Stayman
4 tablespoons (60 g) unsalted butter
¼ cup (60 ml) maple syrup, preferably Grade B1 tablespoon light brown sugar
For the cake:
½ cup (115 g) unsalted butter, at room temperature
¾ cup (170 g) firmly packed light brown sugar
2 large eggs
¾ cup (175 ml) milk, at room temperature
1 cup (140 g) all-purpose flour
1 cup (140 g) whole wheat flour
2 teaspoons baking powder
½ teaspoon salt
1 teaspoon ground cinnamon
¼ teaspoon ground nutmeg (preferably freshly grated)
⅓ cup (75 ml) apple cider, at room temperature
Preparation:
Preheat the oven to 350°F.
Begin with the topping. Do not peel the apples. Cut them into quarters, core them, and cut them into ¼-inch-(6-mm)-thick slices. Meanwhile, in a 10-inch (25-cm) cast-iron skillet, melt the butter over medium heat. Continue heating for 4 to 5 minutes more, gently tipping the pan back and forth, until the butter smells toasty and has turned a medium shade of amber (it's hard to judge color against the jet-black metal, so spoon a bit out onto a white plate to get a better look). Remove the pan from the heat and stir in the maple syrup. Arrange the apple slices on top in concentric circles, tightly overlapping the slices to fit as many as possible. Set aside.
To make the cake, cream together the butter and sugar with an electric mixer. Mix in the eggs one at a time. With the mixer running, add the milk slowly and mix well. In a separate, medium bowl, sift together the flours, baking powder, salt, cinnamon, and nutmeg.
Add half of the dry ingredients to the batter and mix until just combined. Then mix in the apple cider. Add the rest of the dry ingredients and mix just until incorporated. Pour the batter on top of the apples and smooth it evenly to the edges.
Bake the cake for 35 to 40 minutes, or until a toothpick inserted into the center comes out clean and the edges are lightly browned and pulling away from the sides of the pan (if you're using a cake pan instead of a skillet, you may need to increase the baking time by 5 to 10 minutes).
Remove the pan from the oven and let it cool until it's no longer hot to the touch. If you're strong, invert the cake onto a serving plate by setting the plate over the top of the skillet, holding them firmly together, and flipping. Or bring the skillet to the table and slice the cake, inverting each piece onto a plate, apple-side up. Serve warm.