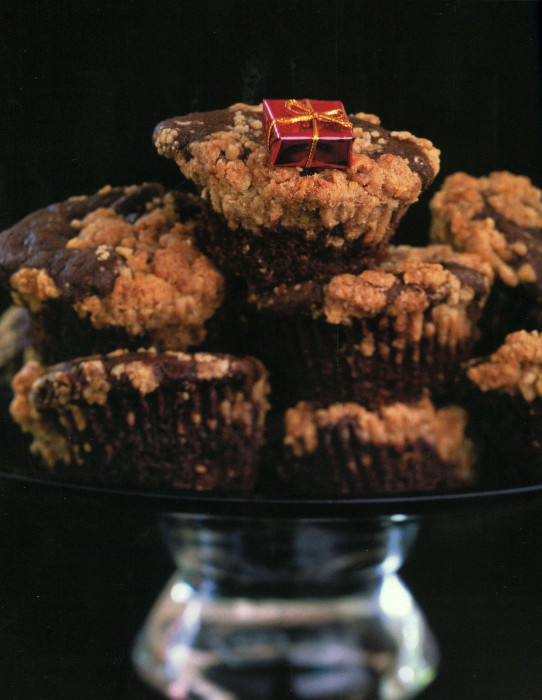 Christmas Cometh. It's just six days away. And you'll have your hands full with dinner on Christmas. Perhaps you are one of those families that also feasts on Christmas Eve. All the more reason to plan ahead for the "other" Christmas meal. On Christmas morning, after the presents are opened and there is a ton of paper and boxes to gather up, what about some food? What about some celebratory breakfast crumb cake. With chocolate to be sure.
From four years ago, for your consideration:
---
Christmas breakfast. How about a Chocolate Sour Cream Crumb Cake, piled as deep with flavor as your tree is high. Chocolate and cinnamon are a wonderful combination. Who can resist a crumb topping. And sour cream cake, with buttermilk too, is always a breakfast winner. Everything comes together in this stocking stuffer of a breakfast treat.
Prepare lots of coffee or espresso to help you enjoy every bite. Christmas is a day of celebration and these cakes are a running start.
---
Christmas Breakfast Chocolate Sour Cream Crumb Cakes
Yield: makes 18 cakes
Ingredients:
For the cinnamon walnut crumb topping:
½ cup all-purpose flour
½ cup walnut halves, toasted and coarsely chopped
¼ cup tightly packed light brown sugar
4 tablespoons (½ stick) unsalted butter, cut into small pieces
⅛ teaspoon ground cinnamon
¼ teaspoon salt
For the chocolate sour cream breakfast cake batter:
1 ½ cups all-purpose flour
¼ cup unsweetened cocoa powder
1 teaspoon baking powder
1 teaspoon baking soda
½ teaspoon salt
1 cup granulated sugar
8 tablespoons (1 stick) unsalted butter, cut into 1-tablespoon pieces
2 large eggs
2 ounces semisweet baking chocolate, coarsely chopped and melted
½ cup buttermilk
½ cup sour cream
1 teaspoon pure vanilla extract
Preparation:
MAKE THE CINNAMON WALNUT CRUMB TOPPING:
Place the flour, walnuts, brown sugar, butter, cinnamon, and salt in the bowl of a stand electric mixer fitted with a paddle. Mix on the lowest speed for 4 minutes, then mix on medium for 30 seconds, until the mixture is crumbly.
MAKE THE CHOCOLATE SOUR CREAM BREAKFAST CAKE BATTER:
Preheat the oven to 350 ° F. Line 18 muffin tin cups with 2 ½ -inch foil liners.
In a sifter, combine the flour, cocoa, baking powder, baking soda, and salt. Sift onto a large piece of parchment or wax paper.
Place the granulated sugar and butter in a clean bowl of a stand electric mixer fitted with a paddle. Mix on low for 1 minute, then beat on medium for 2 minutes, until soft. Stop and scrape down the sides of the bowl and the paddle. Add the eggs, one at a time, beating on medium for 30 seconds after each addition, and scraping down again once the eggs have been incorporated (at this point the batter will look curdled; but don't worry, the melted chocolate will remedy the situation).
Add the melted chocolate and mix on medium for 15 seconds. Scrape down again. Add the buttermilk and sour cream and beat on medium for 1 minute, until the mixture is thoroughly combined and smooth. Scrape down again. Turn on the mixer at the lowest speed and gradually add the dry ingredients; mix until incorporated, about 1 minute. Scrape down again. Add the vanilla and mix on medium to combine, about 15 seconds. Remove the bowl from the mixer, and use a rubber spatula to finish mixing the ingredients until thoroughly combined.
Portion 2 heaping tablespoons or 1 level #20 ice cream scoop of batter into each muffin cup. Sprinkle 1 slightly heaping tablespoon of the Cinnamon Walnut Crumb Topping over as much of each cup of batter as possible. Place the muffin tins on the top and center racks of the oven, and bake until a toothpick inserted in the center of one of the cakes comes out ever so slightly moist with batter, about 20 minutes. (Switch the pans between top and center halfway through the baking time and rotate each 180 degrees.) Remove from the oven and cool at room temperature in the tins for 15 minutes. Remove the crumb cakes from the muffin tins (but not from the liners). Serve immediately, while still warm.
---
Source: I'm Dreaming of a Chocolate Christmas by Marcel Desaulniers [Wiley, 2007]