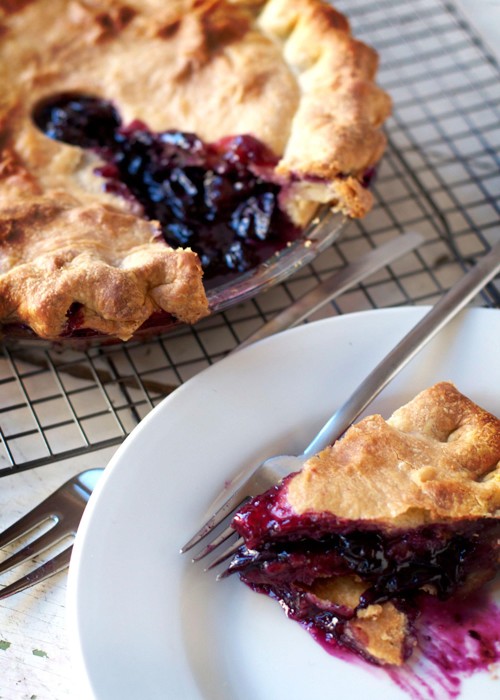 This week's TBT recipe is timely. It's is October and the high season for concord grapes. "Season" is a graceful word to use here. The season is way too short, so now is the time to buy, bake, juice, cook, do whatever you can with these lovely grapes. Summer berries may be on their way out, but these grapes are here now, just for now, to enjoy and indulge in.
---
Concord Grape Pie
Yield: one 9" pie
Ingredients:
For the pastry:
2 ½ cups flour
1 teaspoon salt
18 tablespoons chilled unsalted butter, cut into small pieces
For the filling:
2 pounds concord grapes, stemmed
¾ to 1 cup sugar
2 tablespoons quick-cooking tapioca
1 tablespoon unsalted butter, cut into small pieces
Preparation:
For the pastry: Whisk flour and salt together in a large bowl. Using a pastry cutter or 2 table knives, work butter into flour until mixture resembles coarse meal. Sprinkle in up to 10 tablespoons ice water, stirring dough with a fork until it just holds together. Press dough into a rough ball, then transfer to a lightly floured surface. Give dough several quick kneads until smooth. Divide dough into 2 balls, one slightly larger than the other, wrap each in plastic wrap, and refrigerate for 2 hours.
For the filling: Slip pulp of each grape out of its skin into a medium saucepan, put skins into a large bowl, and set aside. Cook pulp over medium heat, stirring often, until soft, 8–10 minutes, then strain into bowl with skins, pressing on solids with the back of a spoon. Discard seeds. Set aside to cool completely. Stir sugar and tapioca into grapes and set aside.
Preheat oven to 400°. Roll the larger dough ball out on a lightly floured surface into a 12″ round, then fit into a 9″ pie plate. Transfer grape filling to pastry bottom and scatter butter on top. Roll the remaining dough ball out on the lightly floured surface into a 10″ round, cut a 1″ hole in center of dough to let steam escape, then cover filling with pastry round. Fold edges of dough under and crimp edges. Bake pie for 20 minutes, reduce oven temperature to 350°, and continue baking until pastry is golden brown, 45–50 minutes more. Set pie aside to cool completely.
---
Source: Saveur