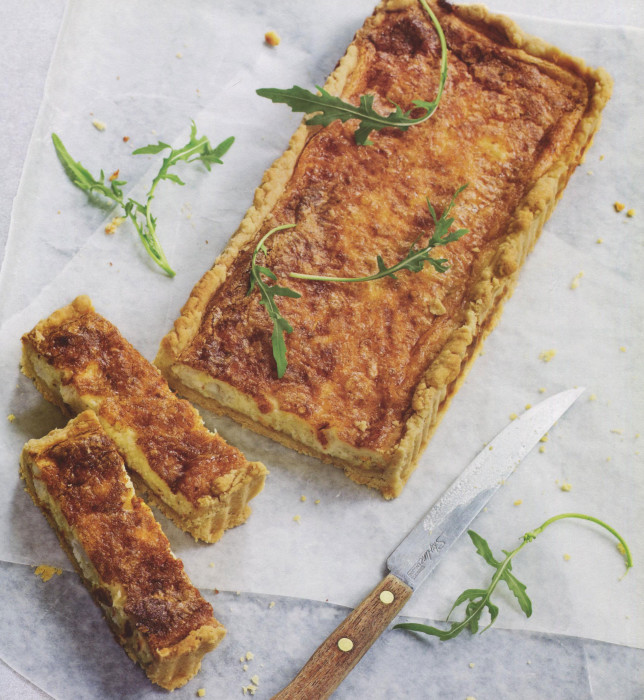 Today's TBT Cookbook review covers The New American Cheese, a survey of the American cheese landscape in 2000. So, naturally, we need a TBT recipe rich in cheese. Here it is. The pairing of crab and cheese is classic and here the packaging, ala tart, makes it even more so.
In Make Mine a Martini, author Kay Plunkett-Hogge presents this an array of cocktails for you to consider, not just a wonderful martini. There are classics here and some new ones, like The Fine & Dandy, a combo of lemon juice, Cointreau and gin.
But this book is really more: a cocktail party book with recipe for food ideas to make your cocktail party vibrantly happy and successful.
This tart, with crab and cheese, is exactly the centerpiece app that you want. Beautiful, rich, and complex in flavor, it can happily stand alongside the cocktails in Make Mine a Martini as well as wine.
As with any tart, this is a dish that takes some time and love to fashion. But, it's beauty to the eye and to the palette is worth the investment. Kay says this dish is sophisticated, cream, and fragrant with saffron. Serve at room temperature, definitely not cold, so it has a little wobble and aromatic power.
You can read my review of Make Mine a Martini right here.
---
Crab, Saffron and Gruyere Tart
Yield: serves 12
Ingredients:
For the filling:
2 eggs plus 1 egg yolk, lightly beaten
200 ml (7 fluid ounces) double (heavy) cream
A pinch of grated nutmeg a
A large pinch of saffron threads
170 gram can crab meat, drained
100 grams [3 ½ ounces] Gruyere cheese, grated
Sea salt and freshly ground black pepper
For the pastry:
225 grams (7 ½ ounces) plain flour
110 grams (3 ¾ ounces) cold unsalted butter
A small glass of iced water
Preparation:
Preheat the oven to 375°F and grease a 20 cm (8 inch) round or 36 x 12 2 cm (14 x 4 ½ inch) rectangular loose-bottomed flan tin.
To make the pastry, sift the flour into a mixing bowl, then chop the fridge-cold butter into small pieces and drop them into the bowl. Coat them in flour, then rub the butter and flour between your fingertips, lifting it, rubbing it together until the mixture resembles fine breadcrumbs. Add a good pinch of salt and stir it in. Then add the iced water, a teaspoonful at a time, until the pastry just comes together. If you add too much water, you'll get a hard pastry.
Push the pastry straight into the greased flan tin, easing it around gently with your knuckles until it is evenly covering the base and sides. Line the pastry case with baking parchment and weight it down with baking beans. Bake blind for about 1 0 minutes, then remove the beans and paper and return the tart case to the oven for a further 5 minutes. Set aside to cool.
To make the filling, mix the eggs and the yolk, the cream, nutmeg and saffron in a large bowl and season with salt and pepper. Beat the mixture with a hand-held electric whisk to combine thoroughly, then leave to stand for 20 minutes. Beat again, then carefully stir in the crab and grated cheese.
Pour the filing into the flan tin and bake for 30-40 minutes until the pastry is golden brown and the filling is domed, burnished and puffy. Allow to cool to room temperature, or just above, before serving.
---
Source: Make Mine a Martini by Kay Plunkett-Hogge [I5 Press, 2015]