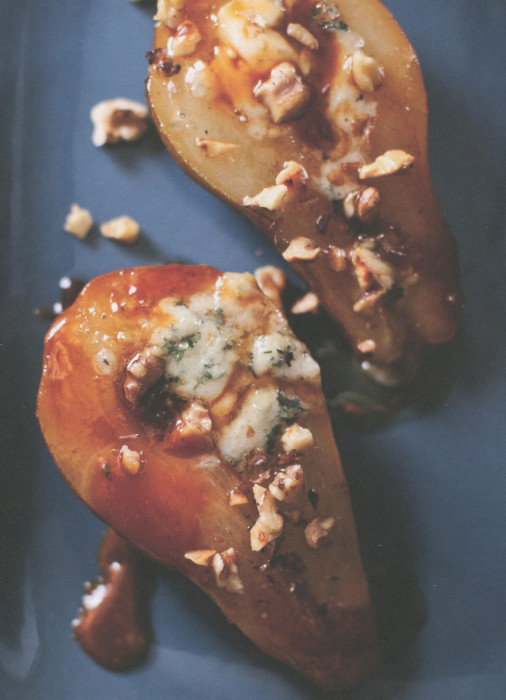 We may all have enjoyed a salad with pears and blue cheese and some nuts. It's a great upscale dish for, say, brunch. But what about dessert? Tammy Donroe Inman suggests just that idea in Wintersweet — you can see my review here. Wintersweet is a magnificent dessert book and a go-to reference for upscale desserts.
In this version, pear halves are glazed in honey syrup, filled with bubbling blue cheese, and sprinkled with toasted walnuts.
Get a really fine blue here, something with a little punch. And, if walnuts are not your fav, then pecans are, according to my wife, much, much better.
Quick, elegant, and memorable. This is a dessert for fall to spring.
---
Honey-Roasted Pears with Blue Cheese and Walnuts
Yield: serves 6
Ingredients:
3 ripe pears (about1 ½ pounds) like Bose or Conference, unpeeled
3 tablespoons (45 g) unsalted butter, melted
¼ cup (60 ml) honey
¼ cup (50 g) granulated sugar
½ cup (50 g) chopped walnuts
½ cup (50 g) crumbled blue cheese
Preparation:
Preheat the oven to 375°F (l90°C).
Cut the pears in half, and then slice a thin sliver from the rounded side of each half so the pears can rest flat. Scoop out the cores of each pear half with a melon bailer. It doesn't have to be pretty, as you will later be filling the cavities with cheese and nuts.
Pour the melted butter into a 13 x 9-inch (33 x 23-cm) baking dish. Whisk in the honey and sugar. Arrange the pears, cut-side down, on top of the honey-sugar mixture. Roast the pears until they are tender, about 30 minutes.
Meanwhile, in a medium, dry skillet, lightly toast the chopped walnuts over medium heat for 4 to 5 minutes, tossing occasionally, until they are fragrant, lightly browned in spots, and softly hissing. Remove to a plate to cool.
Remove the pears from the oven and gently flip them, cut-side- up. Baste the pears with the honey syrup and return them to the oven for 10 minutes. Remove the pears again and fill each cavity with a generous tablespoon of blue cheese. Return the pears to the oven and bake until the cheese has melted, about 5 minutes more. To serve, spoon some of the caramelized syrup onto serving plates, set the warm pear halves on top, and sprinkle with toasted walnuts. Any leftovers can be stored, covered, in the refrigerator for 1 to 2 days and reheated in the microwave.
---
Source: Wintersweet by Tammy Donroe Inman [Running Press, 2013]