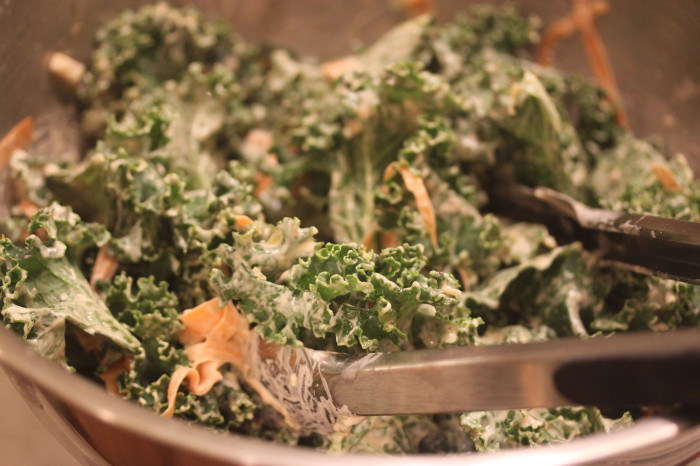 Today's TBT recipe is warm with recipes from Suzi's grandmother. And replete with ideas for early spring bounty. Find some kale and carrots. And horseradish. Throw away your bottle of Russian dressing. Here's a recipe from a grandmother born in Russia/Poland/Russia/Poland. The border was always shifting. The town was Bialystock.
"I would touch the wall as I walked up the stairs," Suzen began, "and if it was warm, I knew she had made latkes. She made great latkes."
Suzen recounts visiting her grandmother in a 3rd floor walkup in Brooklyn. Her grandmother was one of many Jews who came from Bialystok, a town in Poland that has been Polish, Russian, Lithuanian, Swedish, and perhaps a few more. A trading center, everyone wanted Bialystok, to control it, but a lot of people could not live there.
Suzen raves about her grandmother's latkes saying they are the best. Anytime we eat out and sample one, she will contemplate and pronounce that they are nowhere near the originals from the Brooklyn apartment.
So, I finally asked: "Did your grandmother make Russian dressing."
"Sure," Suzen said, and I waited for a wondrous recipe, "it's mayo and ketchup."
I was underwhelmed. But, as fortune would shine on us, Suzen and I have a copy of Maximum Flavors. And here we have a very interesting new salad: kale slaw topped with Russian dressing. This Russian dressing is not just mayo and ketchup. There's lots more to it and the results are simply dazzling.
Maximum Flavors is devoted to new ways, new concepts to cook at home. This salad is a great example. You are used to marinating things, like meat, fish … Who ever heard of marinating a salad. But this kale slaw requests just that. At least 2 hours and Suzi did about 6. The result? That kale with its formidable skin is transformed into a delectable crunchy treat.
Kale was not on the culinary horizon for a few years ago. Now it is everywhere. Kale chips, with chipotle of course, sit in $6 bags at Whole Foods. To really enjoy the purity of its dramatic flavor, try the kale this way. With real Russian dressing.
I bet a certain grandmother would approve.
Kale Slaw with Russian Dressing
Yield: serves 8 as a side dish
Ingredients:
2 bunches kale, preferably Tuscan
1 large carrot, grated
½ cup / 100 grams mayonnaise, preferably Duke's or Hellmann's
¼ cup / 65 grams ketchup
¼ cup / 60 grams sweet pickle juice
1 tablespoon / 15 grams chopped onion
1 tablespoon / 15 grams chopped celery
1 tablespoon / 15 grams chopped carrot
1 teaspoon / 5 grams prepared horseradish
4.5 ounces / 125 grams Gorgonzola dolce cheese, crumbled
Preparation:
Remove and discard the kale stems. Finely slice the leaves about ¼-inch [6 mm]thick, then wash and dry them in a salad spinner. Put the kale in a bowl and add the grated carrot.
In a separate bowl, whisk together the mayonnaise, ketchup, pickle juice, chopped onion, chopped celery, chopped carrot, and horseradish.
Pour the salad dressing over the sliced kale and carrots and stir to evenly coat the mixture. Put the kale slaw into the refrigerator to marinate for at least 2 hours and up to 24.
To serve, put the kale slaw in a bowl and crumble the Gorgonzola cheese over the top…
Source: Maximum Flavor by Aki Kamozawa and Alexander Talbot
Photo Information [top picture]: Canon T2i, EFS 60 mm Macro Lens, F/2.8 for 1/100th second at ISO-1600