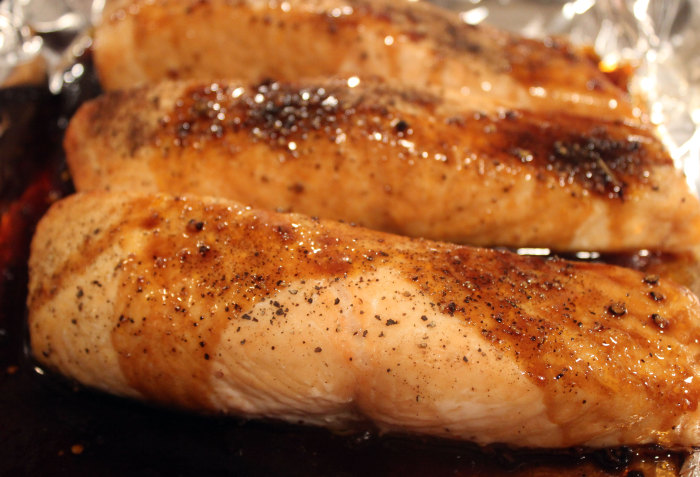 Here a lovely salmon recipe from a couple of years ago. We ate this in January of 2015 when there was snow on the ground  and a little chipotle heat was in order. The combo of heat and sweet, chipotle and pomegranate, makes this salmon a year-round recipe for your enjoyment.
Some of us can eat a lot of salmon. It seems that at weddings and other events the choices are "salmon and steak" or "salmon and chicken." Salmon fatigue can be avoided.  This modestly complex glaze complements the salmon while adding its own sparkling notes. The result is salmon that reminds you why you first fell in love with that pink wonder.
And there is the guilt or controversy about where that salmon you are buying actually came from. How to know if that salmon is wild or farmed? Here's a guide from The New York Times a few years ago:
http://dinersjournal.blogs.nytimes.com/2009/04/10/the-bottom-line-on-salmon/?_r=0
The bottom line is this: if the salmon you are eating is Atlantic then it is farmed because there are intense restrictions of catching wild Atlantic salmon. If your salmon is Pacific, then it was caught by net or, maybe, by line. If you live in the East, how to get great, wild salmon can be a challenge. Suzen and I use the vendors at the famed Pike Street Market in Seattle. You can order on-line, give them a call and discuss options, and have lovely product in your kitchen in a day or two. The shipping services are excellent. Wild salmon is particularly delicious, especially in this sweet-and-heat version.
---
Salmon with Pomegranate-Chipotle Reduction
Yield: serves 4
Ingredients:
For the Pomegranate-Chipotle Reduction:
½ cup pomegranate juice
½ cup balsamic vinegar
½ cup low-sodium chicken broth
4 teaspoons agave nectar or honey
1 teaspoon adobo sauce from canned chipotle chiles, or to taste
¼ teaspoon dried leaf thyme
1 teaspoon extra-virgin olive oil
For the Salmon:
4 (6-ounce) salmon fillets
¼ teaspoon salt
½ teaspoon pepper
Preparation:
To make the reduction, in a saucepan combine the juice, vinegar, broth, agave nectar, adobo sauce, thyme, and oil and bring to a boil. Simmer until the liquid has reduced to the consistency of thin syrup. There should be about ¼ to ⅓ cup. As the reduction approaches that state, the number of bubbles will increase, and it will thicken quickly. Watch it very carefully and turn down the heat, if necessary, and stir constantly to keep it from scorching. Pour the reduced sauce into a small container, cover, and reserve.
Grill and serve the salmon. Season the salmon with salt and pepper and broil it on a grill or in a ridged grill pan until it is as done as you like it.
To use the glaze, the author suggests placing one fillet on each of four plates and heat the sauce in a microwave. Spoon a tablespoon of it over each one.
We opted to make the glaze and, rather than let it cool, put in still hot over the salmon in the last stages of its cooking. You'll achieve some caramelizaton and intensification of flavor that is superb.
---
Photo Information: Canon T2i, EFS 60mm Macro Lens, F/4 for1/50th second at ISO 2000