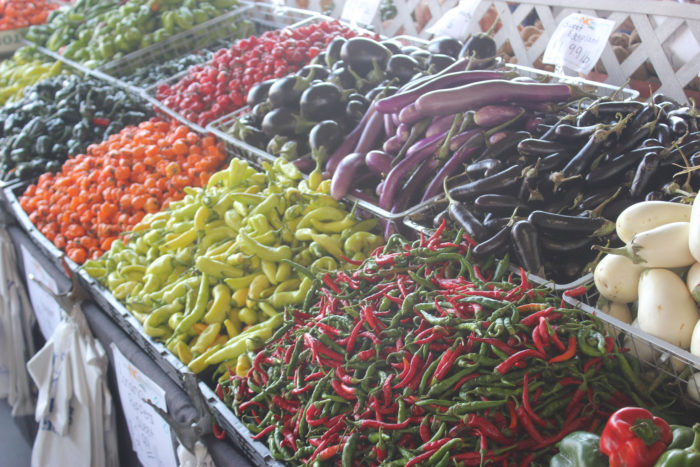 There are two aspects the "old" part of this TBT recipe. First, the recipe itself is from Bon Appetit in 2013. And the photo was taken in 2015 at the gigantic farmers market shed outside of Raleigh, North Carolina. If you are ever in the Raleigh area, this market is one to put on your bucket list.
I was going through my photos looking for TBT ideas when I found this one. Funny how the arrangement of produce at a farmers market can direct your cooking. There was this one stall with mounds of peppers and several kinds of eggplants all arrayed out for enjoyment.
Seeing them on display, how can you not ponder some way enjoy them. Here are peppers and eggplant in all their glory. Spicy glory.
Note that you can prepare this dish up to four days in advance. Just cover and chill it. Wait to add the basil until just before serving. You'll probably want this dish hot from the stovetop.
---
Spiced Peppers and Eggplant
Yield: serves 4
Ingredients:
¼ cup olive oil
4 garlic cloves
¾ teaspoon coriander seeds, crushed
¾ teaspoon cumin seeds, crushed
Pinch of saffron threads (optional)
4 sweet peppers, any color (about 1 pound), cut into 2″ strips
2 baby eggplants (about 1/2 pound), quartered lengthwise, or 1/2 large eggplant, cut into 2×1″ pieces
Kosher salt, freshly ground pepper
2 tablespoons red wine vinegar
1 cup torn fresh basil leaves
Preparation:
Heat oil in a large skillet over medium-high heat. Add garlic, coriander, cumin, and saffron, if using; cook, stirring often, until garlic is softened, about 4 minutes. Add sweet peppers and eggplants; season with salt and pepper. Cook, tossing occasionally, until vegetables are tender, 15-20 minutes. Remove from heat and add vinegar. Just before serving, add basil and toss to combine.
---
Source: Bon Appetit
Photo Information: Canon T2i, EFS 60mm Macro Lens, F/5 for 1/60th second at ISO‑250