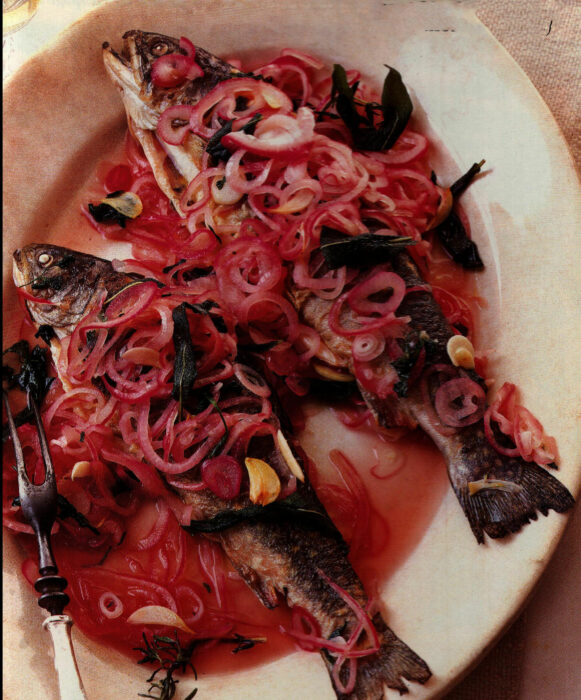 In my review earlier today of The Italian Country Table, by Lynne Rossetto Kasper, I mentioned this dish as the prototype of Italian style: a few ingredients, quickly and carefully assembled into a dish of distinctive beauty.
Pair these trout with some boiled potatoes laden with sea salt and butter. On the side, an Italian white, crisp and dry.
---
Trout Marinated with Sweet Onions
Yield: serves 4 to 6
Ingredients:
4 large cloves garlic, thinly sliced
10 large fresh sage leaves
4 4-inch sprigs fresh rosemary, broken in half
10 fresh Italian parsley leaves plus a few extra for garnish
Extra-virgin olive oil
3 to 4 medium red onions, sliced into thin rings
Salt and freshly ground black pepper
1 ½ cup plus 2 tablespoons red wine vinegar
2 pounds trout, Arctic char, or sea trout fillets or 4 whole boned trout (about 8 ounces each)
Preparation:
Set aside about one eighth of the garlic, 3 of the sage leaves, half the rosemary branches, and about 3 of the parsley leaves. Lightly film a 12-inch skillet with olive oil and heat over high heat. Sauté the onions and the remaining garlic and herbs for 1 minute, seasoning with salt and pepper. Stir in ½ cup of the vinegar. Cook over low heat 2 to 3 minutes, or until the onions have absorbed all but 2 to 3 tablespoons of the vinegar but are still somewhat crisp. Spread the contents of the pan on a platter and cool. Wash and dry the skillet.
With tweezers, remove any bones from the fillets if using. Cut them each into 2 or 3 large pieces. Live the whole fish whole. Dust the fish with salt and pepper. Fil the skillet with oil and heat over medium-high heat. Sauté the fish with the reserved herbs to pale gold and cooked through, about 30 seconds to 1 minute per side for thin pieces of fillet, 3 minutes per side for thicker ones. Turn the fish with two spatulas to prevent them from breaking. The fish should be firm and opaque at the center, but not flaking.
Spread half the onion of the bottom of a shallow dish. Top with the fish. Spoon any onion pan juices over the fish, then sprinkle with the remaining 2 tablespoons vinegar and cover with the remaining onions. Season to taste.
Hold the fish at cool room temperature for 30 minutes, ten serve. You could scatter the dish with several fresh parsley leaves.
---
Source: The Italian Country Table by Lynne Rossetto Kasper [Scribner, 1999]