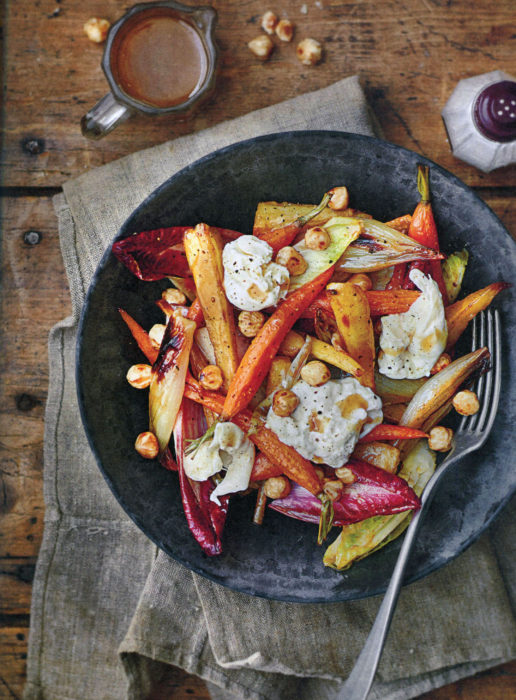 Two years ago I reviewed Cooking, Blokes & Artichokes: A Modern Man's Kitchen Handbook by chef, and now author, Brendan Collings. Brendon targeted a male audience, providing guidance to all men including the kitchen-challenged. My lovely wife treasures the book as much as I do. Here's a recipe we set aside for the holidays. Thanksgiving is just next week and you may want something veggie in addition to, or even as a replacement for, mashed potatoes.
This is a winter vegetable salad, a time for earthy flavors and warmth on the plate. Consider it for the coming holidays or any of the meals until the snow gone and spring has come to save us again. Feel free to mix and match and multiply here. More onions, some small potatoes? You can do no wrong here.
Oh, I do like winter. I do. But it is only November 17th and there is a foot of snow outside our house here in the Catskills. There are no leaves on the trees, no late apples waiting for one last harvest. It is winter. And I need comfort food.
---
Roasted Winter Vegetable and Burrata Salad
Yield: serves 4 to 6
Ingredients:
4 ounces hazelnuts
1 small parsnip
1 carrot
2 small turnips
4 small shallots
Sea salt and freshly and ground black pepper
½ cup good-quality extra virgin olive oil, plus a bit more for the vegetables
¼ cup honey, preferably sage blossom honey
1 tablespoon Dijon mustard
½ cup aged sherry vinegar
1 cup grapeseed oil
1 yellow endive
1 red endive
4 (4-ounce) balls burrata
Preparation:
Preheat the oven to 325°F.
Spread the hazelnuts evenly on a baking sheet and toast them until golden brown and extremely fragrant, about 5 minutes. Crush them up a bit and set them aside.
Peel the parsnip, carrot, turnips, and shallots and cut them into bite-sized, roughly uniform pieces. Toss them in a bowl with salt, pepper, and a touch of olive oil, then spread them evenly on a baking sheet and roast until soft and caramelized, about 25 minutes. Allow them to cool slightly.
While your vegetables are cooking, prepare the vinaigrette by whisking the honey, mustard, and vinegar in a medium bowl. Add ½ teaspoon salt and 5 turns of the peppermill. Slowly whisk in the grapeseed oil and the remaining olive oil
In a large bowl, separate the endive leaves and discard the cores. Add the roasted vegetables and half of the hazelnuts. Drizzle on as much vinaigrette as you like and toss to dress.
Divide the salad among plates or arrange it on a large platter. Break up the balls of burrata and distribute them across the top of the salad. Sprinkle the remaining hazelnuts on top and serve
---
 Source: Cooking, Blokes + Artichokes by Brendan Collins [Kyle, 2016]