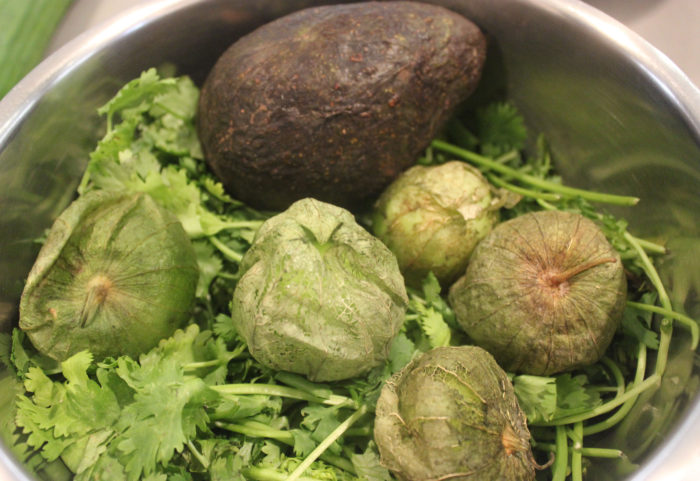 I did a TBT cookbook review of Nueva Salsa, a little book of perfected salsa recipes. Here's an example using one common trio: tomatillo, cilantro, and avocado. In this version, tomatillos are roasted before going into the salsa.
Ah, to roast or not to roast. It's a 50-50 proposition for me. I like salsas with uncooked tomatillos because of their distinctive bite. But then I have a salsa like this, with roasted tomatillos, and I'm back to saying roasted is best. I'm not confused. I'm indecisive. I'm just overwhelmed with that distinctive tomatillo aroma.
This is the prototype of a summer salsa. There is the spice of the tomatillo and the cilantro. There is the cooling effect of the avocado. And underneath it all is the happy bite of the lime and balsamic vinegar.
---
Tomatillo, Cilantro, and Avocado Salsa
Yield: about 3 cups
Ingredients:
4 roasted tomatillos, each quartered
2 ripe Hass avocados, peeled, pitted, and coarsely chopped
1 red onion, diced
1 ½ roasted poblano chiles, peeled, seeded, and diced
⅓ cup white balsamic vinegar
Juice of ½ lime
1 tablespoon olive oil
Kosher salt and freshly ground pepper to taste
2 tablespoons minced fresh cilantro
Preparation:
In a large glass or ceramic bowl, com bine the tomatillos and avocados. Gently stir in the red onion, chiles, vinegar, lime juice, oil, salt, and pepper (don't overdo it or the avocados will get mushy). Let sit for about 20 minutes, then stir in the cilantro and serve. Or, cover and refrigerate for up to 2 days. Return to room temperature and stir in the cilantro just before serving.
---
Source: Nueva Salsa by Rafael Palomino and Arlen Gargagliano [Chronicle Books, 2003]