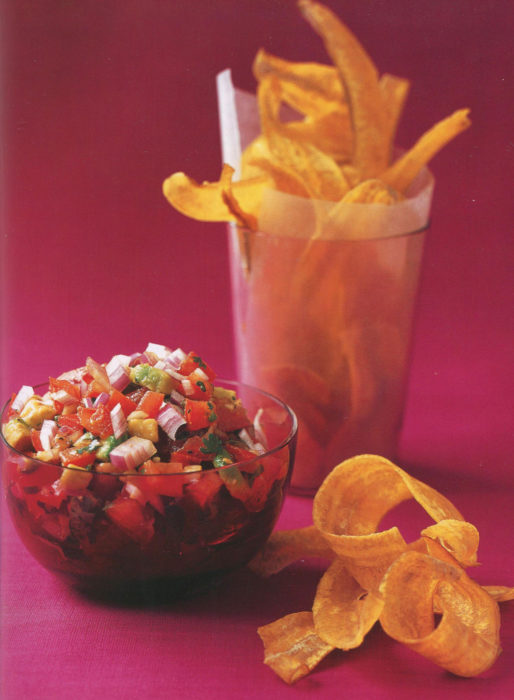 I did a TBT cookbook review of Nueva Salsa, a little book of perfected salsa recipes. Here's an example using the most common trio: tomato, avocado, and cilantro. Plus, naturally, some red onion. But with some surprises, as you will see.
I'm using the picture from Nueva Salsa for good reason. You can see how uniformly all the individual pieces are cut. Not perfectly, but pretty darn uniform.
"How can you chop like that?" is one of my wife's favorite sayings. Particularly with onions, I am a little knife sloppy. So, my salsa can have some rather large chunks of, say, onion, that just did not get sliced up properly. It's hard to eat and unsightly. Salsa is first seen and then eaten. And that first look should be inspiringly beautiful.
I need to slow down, enjoy the slicing, and realize I'm looking at something to be seen and well as tasted.
I have not made this recipe and it has a secret ingredient: tomato juice. The recipe calls for 2 cups and I'm not sure about that. When making this, I'll add the juice at the end, and just enough to get the consistency I want for my chips. There's also a half cup of balsamic vinegar, an interesting sweet/sour component to go with the tomatoes.
---
Tomato, Avocado and Cilantro Salsa
Yield: about 4+ cups
Ingredients:
2 ripe Hass avocados, peeled, pitted, and cut into ¼-inch dice
1 red onion, finely diced
6 plum tomatoes, seeded and finely diced
2 cups tomato juice
½ cup white balsamic vinegar
2 teaspoons chipotle puree
Juice of ½ lime
Kosher salt and freshly ground pepper to taste
1 cup chopped fresh cilantro
Preparation:
In a large bowl, combine the avocados, red onion, tomatoes, and tomato juice. Gently stir with a wooden spoon or your hand just until blended. Gently stir in the chipotle puree, lime juice, salt, and pepper. Let sit for about 20 minutes, then stir in the cilantro and serve. Or, leave out the cilantro, cover and refrigerate for up to 1 day. Return to room temperature and stir in the cilantro just before serving.
---
Source: Nueva Salsa by Rafael Palomino and Arlen Gargagliano [Chronicle Books, 2003]