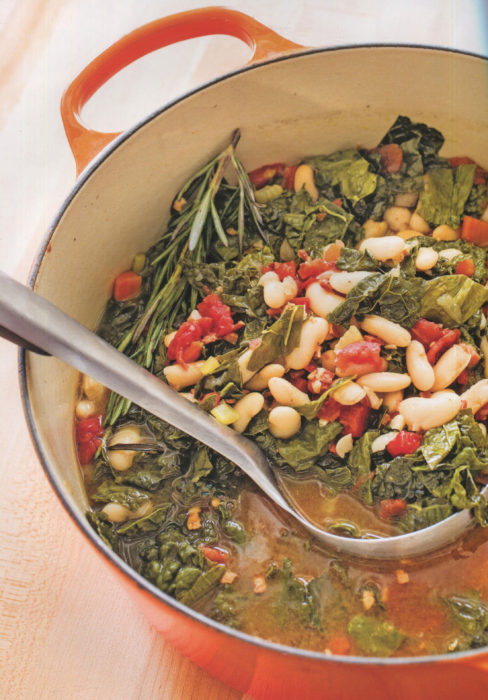 I just posted a review of Tasting Italy yesterday, a new book that is both cookbook and tour guide to Italy. It is a brilliant book filled with 100 recipes from every region of Italy.
Beans. Let's be clear. American's don't automatically jump to eat beans. Except for chile, of course. Beans have a connotation of poverty, stemming I suppose from The Depression. Actually, beans are good. Beans can be more than good. Beans can be exceptional. This dish is called a stew, not a soup. It has the heartiness you would expect of a stew but that richness comes from beans, a little pancetta, oodles of veggies and chicken broth. The combination will have you beaming. Some slices of bread on the side, a glass of wine. And, may tiramisu later in the evening.
---
Tuscan White Bean Stew
Yield: serves 8
Ingredients:
Salt and pepper
1 pound (2 ½  cups) dried cannellini beans, picked over and rinsed
6 ounces pancetta, cut into 1/4-inch pieces
1 tablespoon extra-virgin olive oil, plus extra for serving
1 onion, chopped
2 carrots, peeled and cut into ½ -inch pieces
2 celery ribs, cut into ½ -inch pieces
8 garlic cloves, peeled and smashed
4 cups chicken broth
Water
2 bay leaves
1 pound kale or collard greens, stemmed and chopped
1 (14.5-ounce) can diced tomatoes, drained
1 sprig fresh rosemary
Preparation:
Dissolve 3 tablespoons salt in 4 quarts cold water in large container. Add beans and soak at room temperature for at least 8 hours or up to 24 hours. Drain and rinse well.
Adjust oven rack to lower-middle position and heat oven to 250 degrees. Cook pancetta and oil in Dutch oven over medium heat, stirring occasionally, until pancetta is lightly browned and fat is rendered, 6 to 10 minutes. Stir in onion, carrots, and celery and cook until softened and lightly browned, 10 to 16 minutes. Stir in garlic and cook until fragrant, about 1 minute. Stir in broth, 3 cups water, bay leaves, and beans and bring to boil. Cover, transfer pot to oven, and cook until beans are almost tender (very center of beans will still be firm), 45 minutes to 1 hour.
Stir in kale and tomatoes, cover, and cook until beans and greens are fully tender, 30 to 40 minutes.
Remove pot from oven and submerge rosemary sprig in the stew. Cover and let sit for 15 minutes. Discard bay leaves and rosemary sprig and season stew with salt and pepper to taste. If desired, use back of a spoon to press some beans against the side of the pot to thicken the stew. Drizzle individual portions with extra oil before serving.
---
Source: Tasting Italy by National Geographic and America's Test Kitchen [National Geographic, 2018]