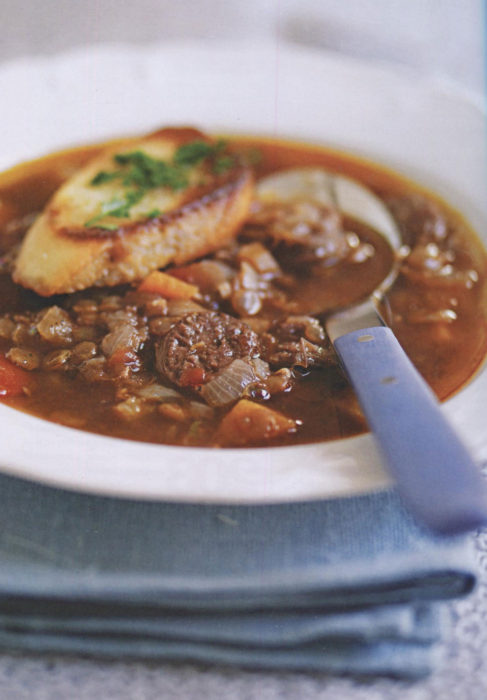 Yesterday I reviewed A Soup a Day and included a picture of this soup. Here's the actual recipe for your enjoyment. The venison here comes from venison sausage. You may be able to secure that easily or you can improvise and incorporate any interesting sausage you track down.
This is not a swift soup. There's a final 1 ¼ hours of cooking that will have you salivating as the aroma fills your kitchen. Or maybe even more rooms.
This is exactly the kind of wonderful soup that can be a main course. Pair with a simple salad and more red wine.
It is a bit of a kitchen sink recipe with cranberry sauce and tomato puree and allspice. Even pheasant stock! If you have any leftover pheasant, this is the recipe for you.
---
Venison, Red Wine, and Lentil Soup
Yield: serves 6
Ingredients:
6 venison sausages
1 tablespoon olive oil
1 onion, roughly chopped
3 garlic cloves, finely chopped
7 ounces of potato, diced
1 carrot diced
4 tomatoes, skinned if liked and roughly 1 chopped
4 ounces dried green lentils, rinsed and drained
1 cup red wine
2 ½ pints beef or pheasant stock
3 tablespoons cranberry sauce
1 tablespoon tomato puree
1 teaspoon ground allspice
2 bay leaves
1 thyme sprig
Salt and pepper
Preparation:
Cook the sausages under a hot grill for about 10 minutes, turning frequently, until evenly browned and just cooked.
Meanwhile, heat the oil in a large saucepan, add the onion and fry for 5 minutes, stirring occasionally, until softened and just beginning brown. Add the garlic, potato and carrot and briefly, then mix in the tomatoes and lentils.
Pour in the wine and stock, then add the cranberry sauce, tomato puree, allspice and herbs. Season well with salt and pepper, then slice the sausages and add to the pan. Bring to boil, stirring, then reduce the heat, cover, and simmer gently for 1 ¼ hours. Taste and adjust the seasoning if needed.
Ladle the soup into bowls and serve with French bread croutons, rubbed with a little garlic and sprinkled with parsley.
---
Source: A Soup a Day [Hamlyn, 2018]