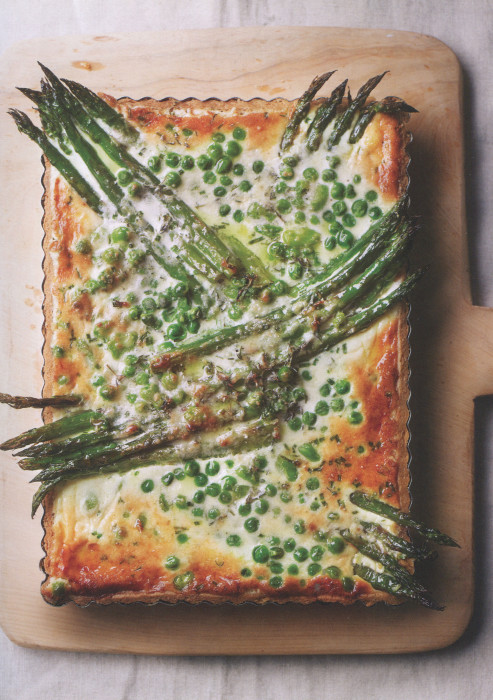 I just posted a TBT review of Tart It Up! by Eric Lanlard. Eric's tarts are perfect foods for these difficult times. They are wonderfully satisfying on the day you make them and the leftovers are something to look forward to. Tarts can come sweet or savory. Here is a spring idea filled with spring green: asparagus and peas. Thyme and chives, too. And a lot of parmesan cheese! Ideal for any meal, any day.
---
---
Just about four years ago, the very talented Eric Lanlard wrote Tart It Up: Sweet and Savory Tarts and Pies. It's a delightful book where the seasonal savory treats have particular appeal. This spring tart is something you cannot resist. Spring officially arrives at the end of March. Maybe you want to get a jump start with this oh-so-green temptation.
The recipe calls for some flaky pastry dough. You may have your own favorite recipe, or you may find this just the time to purchase Eric's book. It is one you will happily use throughout the year.
---
Spring Garden Green Tart
Yield: serves 6
Ingredients:
Butter, for greasing
All-purpose flour, for dusting
About 3/4 quantity (11 ½ ounces) flaky pastry dough (see page 10 in Eric's book)
7 ounces green asparagus, ends trimmed
½ cup fresh peas
½ cup fresh fava beans
3 eggs
⅓ cup Greek yogurt
¾ cup plus 2 tablespoons heavy cream
½ cup dry white wine
1 tablespoon fresh lemon thyme leaves
1 tablespoon snipped chives
1 ¼ cups freshly grated Parmesan cheese
Salt and freshly ground black pepper
Preparation:
Butter a 10 ½ X 8 inch rectangular tart pan, iV4 inches deep. Rollout the dough on a lightly floured surface and use it to line the pan.
Lightly prick the bottom with a fork. Let rest in the refrigerator while preparing the filling.
Bring a saucepan of lightly salted water to a boil. Add the asparagus and cook for 5 minutes, or until cooked but still firm. Remove with a slotted spoon and refresh under cold running water. Repeat with the peas, cooking them for 3 minutes, then the fava beans, cooking them for 5 minutes.
Meanwhile, preheat the oven to 350°F.
Beat the eggs in a bowl and add the yogurt, cream, wine, and, finally, the fresh herbs. Beat well to blend, then season with salt and pepper.
Cover the bottom of the pastry shell with half the Parmesan and arrange the asparagus, peas, and beans over the top in an attractive way. Sprinkle over the rest of the Parmesan. Carefully pour the egg mixture over the vegetables—it should come right to the top. Bake in the oven for30-35 minutes, or until set and golden.
At home, I serve this lovely tart with a celeriac remoulade and a few thin slices of baked ham.
---
Source: Tart It Up!: Sweet and Savory Tarts and Pies