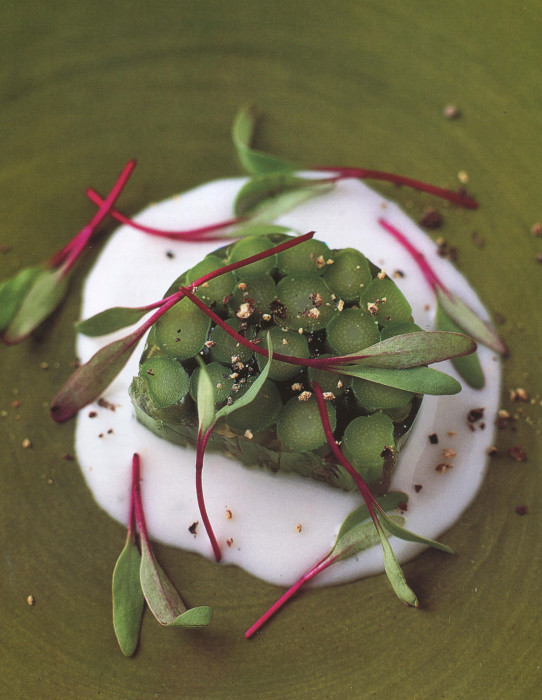 Spring is officially over, and once that meant asparagus season was over too. Happily, we can get asparagus almost year round. I posted this a couple of years ago, suggesting something this pretty should appear on a fall holiday table. Well, there's nothing wrong with a summer holiday table either. Or, just a weekend table. We often just grill our asparagus, thriving on that deep smokey flavor. But here, with the investment of time, you can assemble a thing of beauty.
---
Terrine of Pencil Green Asparagus with Goat Cheese Puree
Yield: serves 10 to 12 [perfect for a feast]
Ingredients:
3 pounds very thin green asparagus, trimmed
2 cups Vegetable Aspic, recipe follows
Nonstick cooking spray 6 ounces Bucheron or other high- quality goat cheese
½ cup water
Salt and freshly ground black pepper
Purple kohlrabi microgreens, chervil, or other pretty, small-leafed greens, for garnishing
1/2 cup of goat cheese
Preparation:
Cut off the tender tips from the asparagus and reserve for another use. If the asparagus stalks are very slender, the ends won't need to be removed, but if a few appear tough or thick, break them where they naturally snap. Trim the stalks to the same length so they are easy to stack. Line them up at the tip ends to do so.
In a large pot of boiling water, blanch the asparagus stalks for 1 to 3 minutes or until fork- tender. Drain and immediately submerge in cold water. Drain again.
Put the vegetable aspic in a small saucepan and cook over low heat until just melted.
Lightly coat a long, shallow, 1-cup terrine mold, approximately 3 inches long and 2, inches wide, with nonstick cooking spray and line with plastic wrap, leaving 3-inch overhangs on the long sides of the terrine.
Make the first layer by laying the asparagus side by side in the terrine. Cut the stalks to fill in a single layer so there are no gaps. Spoon just enough aspic over the asparagus to coat the stalks. Continue layering the asparagus and aspic until the terrine is filled. The final layer should be aspic. Place the mold on a rimmed tray to catch any overflow of juices. Fold the overhanging ends of the plastic wrap over the top of the terrine and set a piece of foil-lined lightweight cardboard, cut to fit inside the mold, on top of the plastic wrap. Place a weight, such as a soup can laid on its side, on top of the cardboard and refrigerate for at least 24 hours.
Put the goat cheese and about 2 tablespoons of the water in a small saucepan. Cook over low heat, whisking constantly, until the mixture is smooth and just warm. Add as much of the remaining water as needed for a sauce like consistency. Season to taste with salt and pepper. Set aside, covered, to keep warm.
To serve, use the plastic wrap to lift the terrine from the mold. Unwrap and cut the terrine into V2-inch slices. Spoon a pool of goat cheese puree in the middle of a small plate. Lay 1 slice of terrine on top. Garnish with greens and season to taste with salt and pepper. Repeat to make 9 to 11 more servings.
---
Vegetable Aspic
Yield: 2 cups
Ingredients:
2 cups vegetable stock
20 gelatin sheets
Salt
Preparation:
Put the vegetable stock in a medium-sized saucepan and bring to a boil. As soon as the stock comes to the boil, remove from heat.
Meanwhile, fill a large bowl the cold water. Gently drop the gelatin sheets into the water, several and a time, until all are submerged. Let soften and bloom for about 5 minutes.
Using your hands, life the gelatin sheets form the water and gently squeeze them between your fingers. Transfer to the hot vegetable stock. Stir gently until dissolved. Season to taste with salt. Allow to cool to room temperature.
Transfer to a covered container and refrigerate until needed.
---
Source: Amuse-Bouche by Rick Tramonto [Random House, 2002]