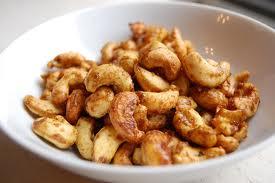 As the holidays approach, we can all use a little party food. From October 2012 here's a TBT tidbit: cashews, bacon and brown sugar. You'll probably want to add a whiskey sour.
---
This recipe is for anyone who loves cashews, bacon, and sugar. Okay, it's not a kosher recipe, but in that case you can see how to quickly modify this for use in Israel, Muslim lands, or places where bacon is not loved.
This is a brilliant way to serve up cashews in a different format. You keep the nut taste, but the augmentation of bacon and sweetness is very wonderful. You may not have ever had cashews cooked in sugar syrup before. It's an experience and the flavor does intensity besides sweetening.
The recipe calls for a 4 cups of nuts, which seems like a lot, but really isn't. This will be the top dog appetizer at a party, or for a small friends and family gathering watching a weekend ballgame. There are, believe it or not, alternatives to salsa and chips.
Candied Bacon Cashews
Yield: 5 cups
Ingredients: 
1/4 pound slab bacon, cut into 1/4-inch dice
1/2 cup sugar
4 cups raw cashews (about 1 1/4 pounds)
1 tablespoon unsalted butter
Smoked sea salt (see Note)
Preparation:
In a small skillet, cook the bacon until browned, about 7 minutes. Using a slotted spoon,transfer the bacon to a paper towel-lined plate. Measure out 1 tablespoon of the rendered bacon fat and reserve.
In a medium saucepan, combine the sugar with 1/2  cup of water and bring to a boil. Add the cashews and cook over high heat, stirring constantly, until golden, about 8 minutes. Stir in the butter and the reserved 1 tablespoon of bacon fat and cook over low heat, stirring, for 2 minutes. Stir in the diced bacon and season with smoked salt. Let cool completely, then serve.
NOTE: Smoked sea salt is available at specialty food stores  from surlatable.com.
Source: Food and Wine Cocktails 2012