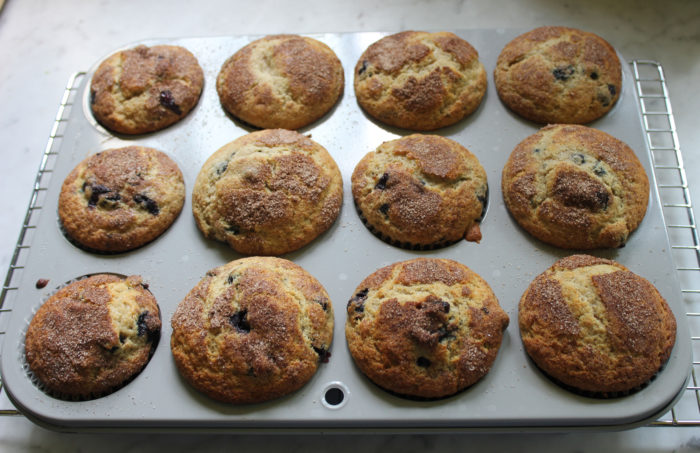 Americans grow more blueberries than any other. Yes, more blues than straws. With their intense sourness, most of us pass on eating blueberries by themselves. Instead, we bundle them into baked goods, like pie and scones and cakes. And muffins.
You can find many blueberry muffin recipes but this one is special. It provides a most complex flavor. Unlike a "standard" recipe this one includes some cinnamon and nutmeg. Instead of milk, here you'll use buttermilk. And instead of creaming the butter, you melt it. The result is a soft texture that speaks of luxury. And spice.
Make this muffin once and I'm sure it will be your go-to recipe whenever you bring blueberries home.
This recipe comes from The Baker's Dozen Cookbook, a 2001 compendium of recipes from a superior collection of baking recipes. You can find the book on Amazon and you'll be most happy to have it in your kitchen.
---
Blueberry Muffins with Surprises
Yield: 12 muffins
Ingredients:
2 cups all-purpose flour
¾ cup plus 1 teaspoon sugar
2½ teaspoons baking powder
1 teaspoon freshly grated nutmeg
1 teaspoon baking soda
½ teaspoon salt
¼ teaspoon ground cinnamon
1 cup buttermilk, at room temperature
8 tablespoons (1 stick) unsalted butter, melted
2 large eggs, at room temperature
½ teaspoon vanilla extract
1 cup fresh or unthawed frozen blueberries
Preparation:
Position a rack in the center of the oven and preheat to 400°F. Lightly spray twelve 2¾ X 1 ½-inch muffin cups with cooking spray.
Sift the flour, ¾ cup sugar, baking powder, nutmeg, baking soda, and salt through a wire sieve into a large bowl. In a small bowl, combine the remaining 1 teaspoon sugar and the cinnamon and set aside for the topping.
In a medium bowl, whisk the buttermilk, melted butter, eggs, and vanilla until you don't see any unblended egg. Add all at once to the flour mixture and stir just until combined. Scrape the bowl with a rubber spatula and stir just a couple of more times; don't overmix the batter. Gently fold in the blueberries.
Using a large spoon or ice cream scoop, divide the batter among the cups. Sprinkle the top of each muffin with the cinnamon sugar.
Bake until a wooden toothpick inserted into the centers of the muffin comes out clean and the tops spring back when pressed with your fingers 15 to 20 minutes.
Transfer to a wire cooling rack or a heatproof surface and cool the muffins in the pan for 5 minutes. Remove the muffins from the pan. Serv warm or cooled to room temperature.
---
Source: The Baker's Dozen Cookbook by Rick Rodgers [William Morrow, 2001]
Photo Information: Canon T2i, EFS 60mm Macro Lens, F/4 for 1/30th second at ISO‑200