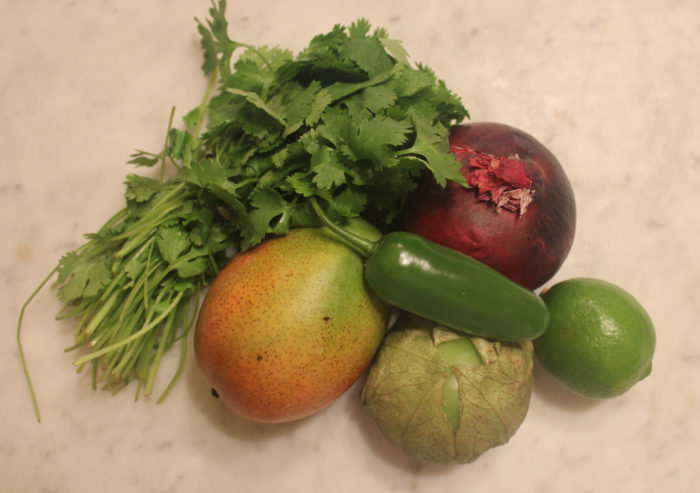 Oh, heck. The calendar says Fall. I say Forget It.
You can have endless summers. Thanks to airplanes and trains and trucks we can get produce from around the world all around the year. Produce like mangoes.
Mango salsa has many uses. Chip, of course. And more chips. This salsa has a quite different character than its tomato-based siblings. This fruity salsa has impact and goes well with even the most potent margarita.
Course, salsa can have other uses. In tomorrow's post, you'll see this salsa paired with trout. Ah, but that's tomorrow and today is Mango Salsa Day.
This is a recipe by the Ones because there is just one of each ingredient. You can expand the list here, of course. Some pineapple would be fine [though not ONE whole pineapple!]. Even regular apple would add a nice crunch.
---
Brian's Mango Salsa by the Ones
Yield: 2+ cups
Ingredients:
1 tomatillo
1 red onion
1 mango
1 lime
1 bunch of cilantro
Salt, pepper, and sugar as needed
Preparation:
Take the husk off the tomatillo. Grill the tomatillo — you can do on your gas stove — until it is blackened. Peel off the blackened skin and dice. Put the tomatillo into a bowl.
Peel the onion and dice finely. Peel the mango and dice. Cut the ends off the jalapeno, halve it, remove the seeds, and dice. Place these components in the bowl with the tomatillo. Add the juice of the lime.
Tear off a handful of cilantro, chop finely, and add to the bowl. Stir to mix.
Finish with the seasoning you need. Probably salt. Maybe pepper. The sugar? Depends on the heat you have from the jalapeno and the tomatillo. It's wiser to hold off any sugar until you are about to serve.
Serving can occur right away, at room temperature, or you can refrigerate and serve cold. In the fridge, this lasts for a couple of days.
---
Source: Brian O'Rourke
 Photo Information: Canon T2i, EFS 60mm Macro Lens, F/3.5 for 1/30th second at ISO‑500