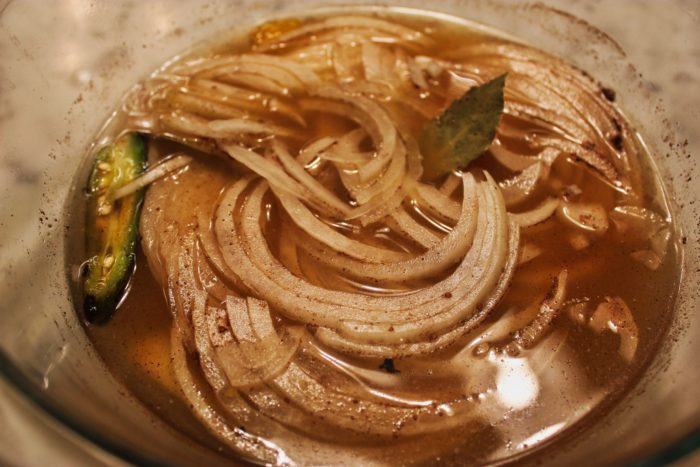 There are hundreds of recipes for quick pickled onions. This is just a template for you. You can adjust the amount and types of vinegar, the herbs and spices you employ, and whether you elect to add some sliced peppers of any variety: jalapeno, habanero, even Scotch bonnet.
This recipe will never taste the same again, so don't worry about consistency. Marinate at room temperature for an hour or leave in the fridge for a few hours. Marinating overnight may generate mushy onions. This recipe is so easy, so fast, that doing it fresh "just before" you need them is the ideal way to prepare and to enjoy. Although you can store these for a week in the fridge, mine never last that long.
---
Citrus and Jalapeno Quick Pickled Onions
Yield: serves 2-4
Ingredients:
½ cup water
1 cup citrus juice [lemon, lime, orange, grapefruit!]
½ cup apple cider vinegar
1 bay leaf
1 teaspoon chili powder
1 teaspoon salt
1 tablespoon sugar
1 jalapeno pepper, sliced lengthwise, seed retained.
2 large onions, peeled and sliced crosswise
Preparation:
Combine all the ingredients but the onions in a sauce pan. Bring to a boil over medium heat and then simmer for two minutes.
Put the onions in a shallow, heatproof bowl or rectangular baking dish. Pour liquid over the onions and make sure they are all submerged. Cover with aluminum foil and allow to come to room temperature. When cool, enjoy in real time or refrigerate for up to a week. You'll want to use a nonreactive container here, ideally glass, for refrigerated storage.
---
Source: Brian O'Rourke
Photo Information: Canon T2i, EFS 60mm Macro Lens, F/3.5 for 1/30th second at ISO‑200