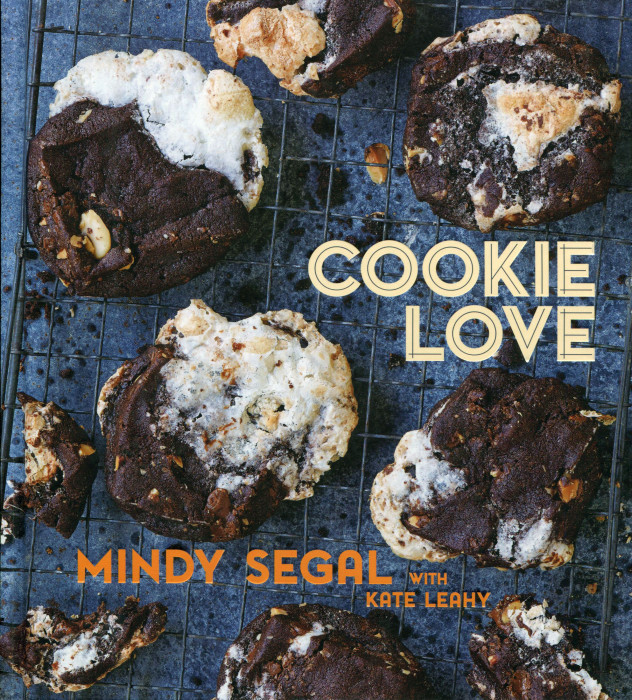 How often have you heard someone talking about "improving your game?" How would you like to improve your cookie game? I'm mean really, really, truly improve it.
Mindy Segal's Cookie Love is sitting there on store shelves, prominent displayed, and waiting for you to pick it up and take a look. Believe me: you don't need to look, just buy, take home and get to baking.
This lovely book raises cookie science to a whole new level. How can I demonstrate that? Why, with a picture: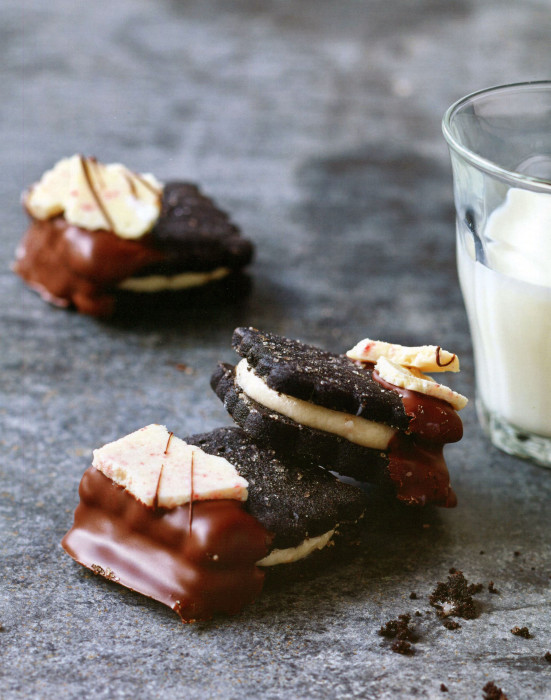 That cookie is The Black Sabbath, a sandwich cookie where the wafers are cocoa shortbread, the filling is mint candies in cream cheese and white chocolate, and the exterior is coated on one end with melted chocolate. And all topped with a piece of peppermint brittle.
Mindy was named the Outstanding Pastry Chef in the Country in 2012 by the James Beard Foundation, after being nominated for the previous five years. She is the owner of the most popular HotChocolate Restaurant in Chicago, where she offers plates of flabbergasting treats. She is, simply put, a cookie maven. And definitely a cookie artist.
The 60+ recipes in the book are organized by style:
Drop
Shortbread
Sandwich
Egg White
Sprint + Thumbprint
Twice-Baked
Rugelach + Kolaches
Bars
And there is a chapter called Basics where she adorns this book with a bevy of perfected sauces. We are talking fudge and caramel and butterscotch.
The Black Sabbath comes from that Sandwich chapter and exemplifies the recipes in Cookie Love. We've all had sandwich cookies: two halves with something soft and sweet in the middle. But here, the halves are lovely cocoa shortbread. The filling is cream cheese and white chocolate. And once constructed, this cookie "house" is then painted and shingled with more chocolate and candy.
Her recipes are extensive. They take two or more pages to present all the steps and often some assembly is required. But the cookie journey is just so happy that you'll love every step. There is, as another example, a thumbprint cookie but one with wonderful complexity. The cookie is peanut butter. The thumbprint filling is homemade strawberry jam, jam made with fruit flavored beer. Mindy notes that you'll have jam left over and assures you that you can find other uses for it. Her philosophy is quite clear: make more, use it all, savor each bite.
Here's a survey of some of the other cookie recipes you'll find here:
Cinnamon Brickle Rugelach

Leopard Print Vanilla Bean and Chocolate Shortbread with Hot Fudge

Smoked Chocolate Sables

Malted Milk Chocolate Hot Fudge Sauce

Classic Cream Cheese Dough

Pistachio Shortbread with Cranberry Preserves

Chocolate Toffee Biscotti

Malted Milk Spritz

Graham Cracker and Passion Fruit Whoppie Cookies
Any of these cookies will have you reaching for seconds or thirds. To achieve the beauty and the quality of each one, the underlying recipe is longer than you are used to seeing for "mere" cookies. Longer but certainly doable by you. It's all part of upping your game. And you'll be thrilled that you did.
Ah, Mindy believes in the "cookie plate" where you are happily confronted with choices. So, really, to be true to her award-winning spirit, you need to make two or three of these in one afternoon of cookie binge. I'm sure you are up to it.
By "choices" there I was referring to the order in which you will eat them all. You will eat them all.
If you love cookies, you will adore Cookie Love.