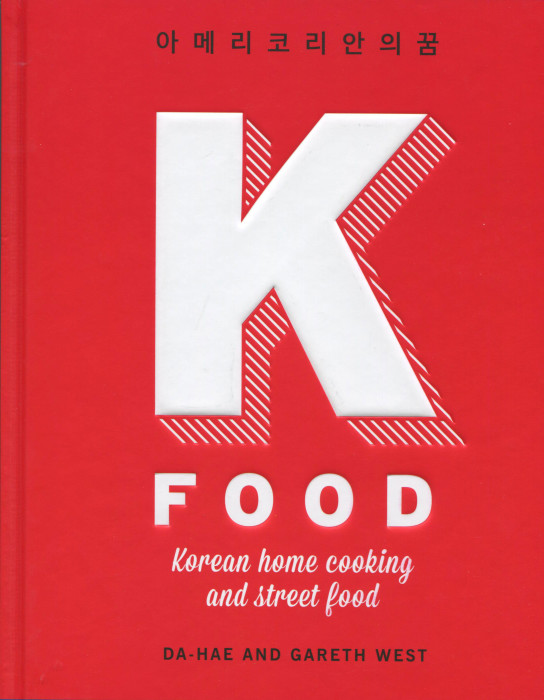 There are cuisines that, like the country itself, remain hidden to many of us. We've all heard about Korea, but truthfully we might be challenged to quickly find it on the map. And while Japanese and Chinese and Thai restaurants abound, few of us have eaten Korean food.
Oh, yes, you may have heard about kimchi, the ubiquitous side dish of cabbage intoned to the maximum with chiles, ginger, garlic, onions and God know what.
You need to read K Food, by Da-Hae and Gareth West, and you will learn just what goes into that kimchi. There is, in fact, an entire chapter written for the wide family of "kimchi" dishes that can dot a Korean dining scene.
Co-authors Da-Hae and Gareth West are wife and husband. She was raised in England with her Korean mother doing everything she could to maintain Da-Hae's Korean roots. When she met and married Gareth, they honeymooned in Korean. Already a foody, Gareth feel madly in love with his wife's native dishes. What else could they do? They've formed a Korean food company and restaurant in England and in K Food they present a survey of both classical Korean dishes and the "new" style of dishes that reflect expanding international impact on the Korean food scene.
In short, this is a book about a somewhat mysterious cuisine, for most of us, that is in transition. This book offers you the chance to explore and experience the excitement of Korean food. Both old and new.
In Manhattan, there are Korean restaurants. And I have sampled. And I have loved the food, although my mouth his often paid a fiery price. Think of Korean food as, well, a tad extreme. They simply go the extra step for heat, sweetness and stickiness. Oh, the stickiness!
Here's a picture of one of the dishes in the book, Sticky, Spicy Pork Ribs. Just looking at it you feel the need to wash your hands.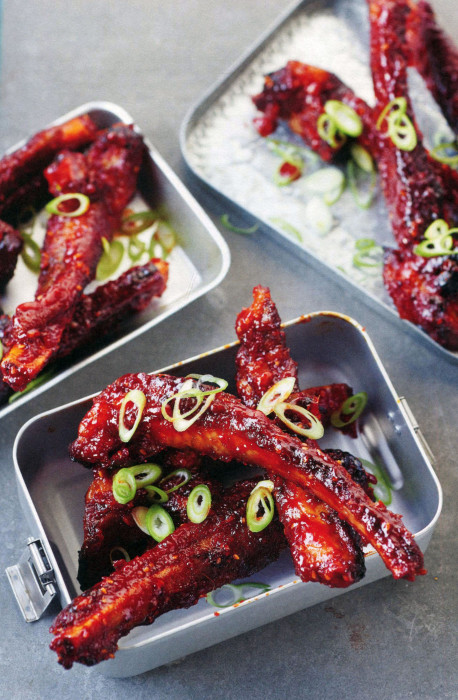 Or, I'm a fan of anchovies, beginning with Caesar salad and extending to omelets and a bevy of appetizers. I'll eat them raw out of the jar. I would never, never have considered this idea: Candied Anchovies.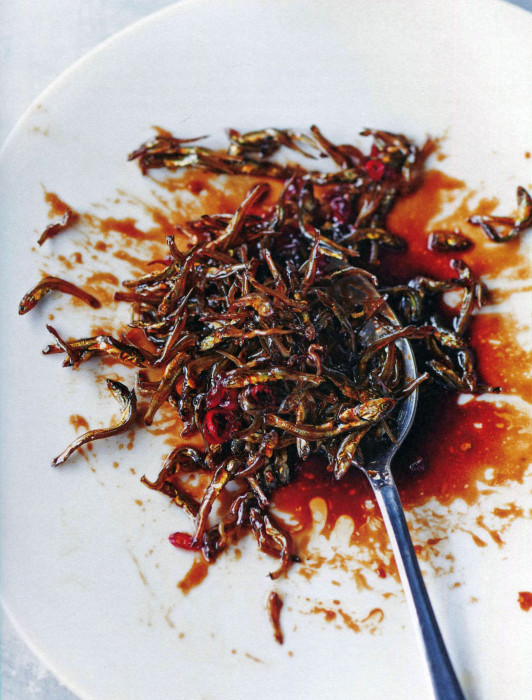 It is the accelerated, extreme flavors of Korean food that offer surprise and appeal. Here's a sampling of other dishes you'll find in K Food. I'm generally using the English translation to give you immediate recognition of the ingredients and style of heat:
Korean BBQ Dipping Sauce made with soybean and red chile pastes, plus scallion, garlic, sesame oil and sesame seeds

Crunchy Kimchi and [even better] Mango Kimchi

Fluffy Steamed Eggs

Onions Pickled with Mustard Sauce

Scotch Bonnet Jam

Korean Steak Tartare with Sesame, Soy, Honey, Clove and Scallion

Sticky Ginger Roast Chicken

Chile Crab in a Sauce of Soy, Chile Powder, Corn Syrup, Ginger, Mirin, Apricot Jam, and Rice Vinegar

Kimchi Fried Rice Topped with Fried Egg

Baesuk Martini: Pear Syrup with Honey, Cinnamon, Vodka and Rum

Salted Caramel-Filled Pancakes
That last dish is a traditional Korean dessert and shows that multiple cultures have fallen in love with the pairing of salt and caramel. This is a street food that you'll find all over Korea. Who would have suspected in a land of chile powder? On the other hand, what better refuge for your burning tongue than a slather of caramel?
Ah, that's really the essence of K Food. It's not that the basic ingredients are different or exotic. The ingredients are things, like the anchovies, you already have in your pantry. But, now, you do different things to those ingredients, like candying them. Or, instead of using ginger or scallion or soy or chile powder, you use them all. The result here is dishes with bombast. And, yes, they are often glistening with some sticky, spicy covering that will have you licking your fingers.
This is a charming book, written by two happy people passionate about the pleasures of Korean cuisine. What better introduction could you ask for?