Change can be good and sometimes quite sensational. Irish cuisine is in the midst of an unparalleled expansion. It's hard to call this evolution a renaissance for this is not a return to some old tradition of great foods. For the Irish, their traditional cuisine over centuries had a core of boiled meats and vegetables, a simple cuisine reflecting the poverty of land and people. Now, free and vibrant and eclectic, the creativity of Ireland is on display in tables across the land. There has never been Irish food like this before. And just keeps getting better.
The Tourism Ireland organization spearheaded the creation of this book, both a culinary and visual tour of modern Ireland. Ten top Irish chefs have contributed the recipes. Some of these chefs you may know, like Kevin Dundon or Darina Allen, from TV and earlier books. The other chefs featured here are ones that you'll want to investigate through their books or cooking schools or restaurants. These are ten world-class chefs here at your disposal. There are 80 recipes, all displayed in exquisite photographs, rich in color and deftly tempting. Another hundred photos of the Irish countryside present the full terroir behind these dishes
To be sure, there is respect here for traditional Irish fare. There are recipes for the "simple" classics like crumpets, strawberry-filled Victoria sponge cake, or fish and chips with a beer batter.
But the destiny of this new cuisine is literally to "step it up." There is a blistering display of ingredients, techniques, and most of all ideal presentation. The dishes will tempt you from the first page. No, the beauty here is not Paris on display. It is Ireland. All Ireland. Here are some of the powerful recipe ideas you will discover complete with Irish flare:
Cod, Octopus, Purple Broccoli, Broccoli Puree, and Horseradish Mayonnaise

Seared Lamb and Beet Salad

Venison with Pureed Celeriac and Spinach

Slow-Cooked Shoulder of Pork with Stuffing, Sauteed Potatoes and Apple Compote

Carpaccio of Scallops with Chili, Lemon and Wood Sorrel

Scallops on a Pea Puree with Vegetable Butter Sauce and Crispy Pancetta

Chicken and Chickpea Tagine with Honey and Ginger

Smoked Duck Breast with Duck Liver Pate and Sultana and Apple Chutney

Irish Mint Truffle Torte with Irish Mist Cream

Sheep Yogurt Mousse with Marinate Strawberries and Mint

Spring Rhubarb Tart with Crystallized Ginger Cream
One cannot dispute the elegance of the desserts. You will relish the layering of those dessert flavors where mousse or pudding or tribble is frosted with fruit or herbs. Or both.
It is the main courses that dominate this book and they would your table. Main course dishes that are memorable for both their flavor and their beauty. Consider that Smoked Duck Breast with Duck Liver Pate and Sultana and Apple Chutney: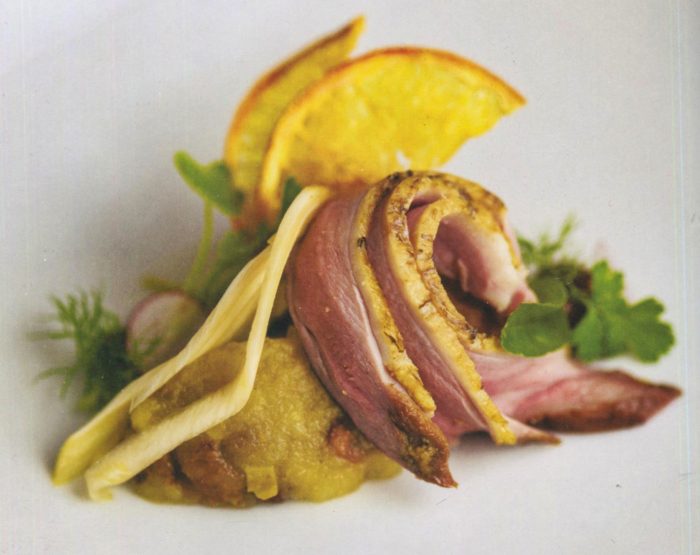 This is a dish of elegance. Yet, as with all the recipes in this clever book, the recipes are quite doable in your home kitchen. The pate is just six ingredients, including some Irish whiskey. The chutney is a mere nine. The preparation is accomplished in four short paragraphs. [Disclosure: you're going to buy a smoked duck but how hard is that?]
What is quite wonderful about these recipes is their grouping. Each chef presents his recipes as a set of menus, typically brunch/lunch and a pair of dinners. You have laid out for you complete meals, from appetizer to dessert. And the three or four suggested recipes, all here in the book, will let you prepare a meal that will be unforgettable.
It's very likely that someone will ask you, "Are you a chef?" To which you can truthfully say, "I'm a bit Irish." Aren't we all?