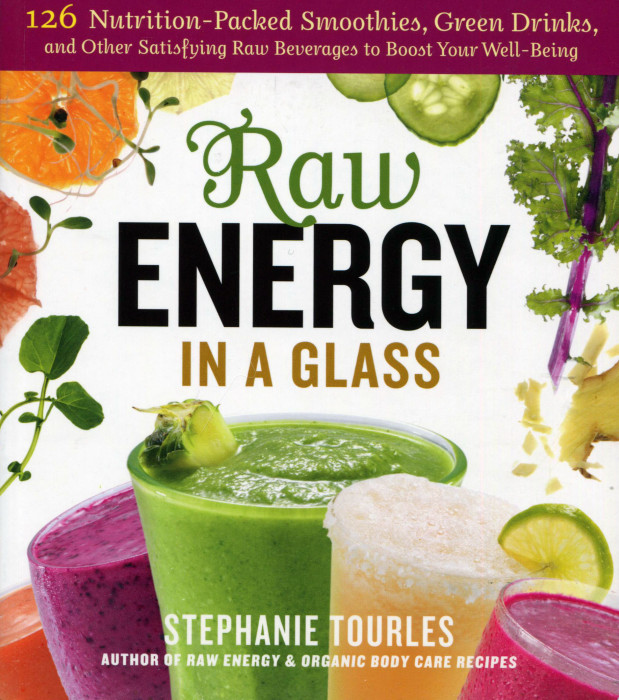 This is a countertop book, one to sit right next to your blender. Author Stephanie Tourles has toured the landscape of natural and healthy foods before in her books Raw Energy and Organic Body Care Recipes.
Here she offers 126 recipes to take care of a daily need we all have: each day we lose about 3 quarts of fluid from our bodies. That's six pounds of water. You know about a couple of the ways this happens, but might not know that a full 1/3 of the loss is due to expiration. Every breath you exhale has water vapor. You need to get it back.
You've probably enjoyed the seduction of smoothie bar or two. Many of those commercial sites offer products that taste good but may include dairy, eggs, sugar, alcohol and typically artificial flavors and colors.
Stephanie proposes a different pathway here, one free of those ingredients. And, unlike juicing where you get the sugar and carbs but not the fiber, she wants you to take that blender out of the cupboard, keep it on the counter, then grind up fresh foods to get the full benefits of all those molecules.
Before you get to the recipes, Stephanie provides a serious summary of her research and experience. She surveys the fruits, vegetables, nuts, herbs, spices, oil and sweeteners you can use to effect. Yes, nuts, because some of her creations are for nut milk or protein-rich beverages using nut components.
And, there is a section on equipment where Stephanie urges you to get a heavy-duty blender, an up-scale, powerful machine that can truly demolish the ingredients. She likes Vitamix, and Suzen and I know why. It's a kind of nuclear-powered engine that can do amazing things to the contents of the glass bowl. Ok, you still plug it into the wall, but it has vastly more power than the low-priced blenders which just cannot compete.
The recipes come in a series of chapters devoted to very specific styles of beverages:
Nut & Seed Milks
Green Smoothies
Longevity Elixirs
Vegan Yogurt
Protein Powered Smoothies and Shakes
Blended Shakes [salad in a glass]
Thick and Frosty Shakes [based on nut milks]
Raw Shots [a half cup or less]
Fruity, Frothy, and Frosty Frappes
Here's a sample of recipe titles. The details are inside the book, a book you ought to pick up, thumb through, and then take home:
Tangerine Banana Freeze

Summer Melon: watermelon, honeydew and cantaloupe

Banana Pear Citrus Frappe

Ultimate Green: avocado and banana

Watercress Tango: grapefruit and watercress

Watermelon Cucumber: watermelon, cucumber, honey, lemon juice

Southwestern Smoothie: avocado, spinach, cucumber, bell pepper, tomato, onion, cayenne
There are many, many combinations of ingredients here that you have not seen at your local juice bar. And, here the total emphasis is on fresh and natural. There's some sweetnessd added, from agave or honey or maple syrup. But no straight dumping of sugar or fruit concentrates.
Some of the recipes are straightforward with fruit or veggie ingredients and perhaps some water or milk or nut milk — these are all dairy free recipes. In some cases you'll find ingredients you may need to add to your pantry: hemp seeds, flaxseed oil, cashew butter and other items you'll find in the healthier aisles of your mega-mart.
In each case, the beverage is intended to replenish fluid and provide you energy through natural, safe ingredients. You can make these beverages fast, but these are far from fast foods. They are guiltless and I'm sure delicious. How will I be certain? I off to the store with a short list: bananas, blueberries, strawberries, avocado and agave. I'll do some testing and tasting. I'm sure that delights will abound.