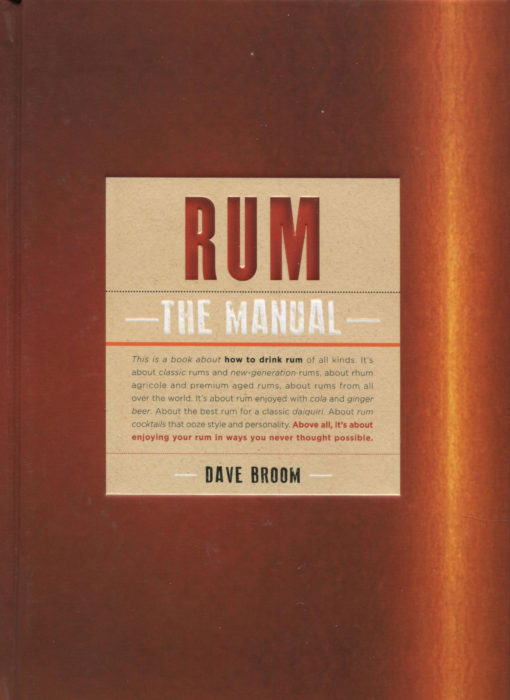 For twenty-five years Dave Broom has been writing about spirits with zeal and skill. He produced the marvelous Whiskey: The Manual in 2014, manifestly THE tour book to the grandeur of whiskey. That was followed in 2015 by the equally definitive Gin: The Manual.
Now we have the trifecta in Rum: The Manual. It will appear in bookstores on March 7 but you can queue up now to get your order in. You want to do that.
The core of this book is a survey of 110 rums from around the world. Before you get to those brands with Dave's insights on the flavors and usage of each one, there is some background in this book. A lot background which transforms rum from a mere beverage to an intriguing tale of human ingenuity and perseverance.
Rum comes from cane sugar plants that originated in New Guinea. Yes, New Guinea, not Cuba. The plant was soon exploited for sugar and made its way to India — where our word for "candy" originated. One of Alexander the Great's generals made the transfer from India to Persia. When Persia was conquered by the Muslims, their world expansion to the Mediterranean and Spain brought sugar cane to the Atlantic. Columbus introduced sugar cane to the Caribbean. And that was the final seed. The British, and the French, bit on the economic potential, grew cane on enormous plantations, boiled millions of gallons into molasses, and exported the resulting rum back to Europe in a great cycle of trade that involved money and slavery for a couple of centuries. Yes, the story is immense and has been a major element in our economic development and history.
So, when you drink your daquiri, you might thank Alexander the Great.
Rum can be made from that molasses, cane juice or cane syrup. The molasses, as an example, has 81 known aromatic compounds that react differently to different rum production methods. The yeast, the fermenting time, the distilling time, the temperature — all those factors and more shape the flavor of the rum in that bottle you hold in your hand.
Rum has made fortunes and bonded colonies to home nations. In the United States, independence from Britain meant "Americans" wanted a new type of alcohol so we switched to whiskey. Rum did not come roaring back for us until the 1930s when Cuba was wide open with rum, women and gambling. Today, rum is appreciated as a refined spirit with all the nuances of, say, whiskey. It's no longer considered a "cheap booze." The full character of rum can be explored in as many directions and dimensions as whiskey or gin.
That brings us to the core of the book: the 110 profiles for rum. Dave divides the rums into principal categories:
White and Overproof: here you find your light Bacardi and Don Q
Aged Latin Style: dark from age and time in wooden casks adding their own flavor notes
Aged English Speaking Caribbean: drier style rums retaining the British heritage of Jamaica and other islands
Rhum Agricole, French Departments, & Haiti: cane juice rums, quite separate from the molasses varieties in the earlier chapters
World Rum: bottles from Bangalore, Australia, Spain, Scotland
Navy and Dark Rum: here you find your Myer's anther intensely flavor dark bottle.
Cachaça: artisanal and mass market products displaying Brazilian ingenuity
In those chapters, each rum is given its own page with a precise discussion of nose, flavors, and best employment using standard mixers: coconut water, ginger beer, clementine juice and cola. And, as representative benchmark, how well does this rum work in an Old-Fashioned?
There is, of course, Dave's wonderful closure to each of his Manual books: a mix of classic cocktails and an array of modern twists.
In just over 220 pages, Rum: The Manual tells you everything. History, chemistry, rums styles and types, the best cocktails for your rum inventory. This is a book for any rum enthusiast. Walking into a liquor store with an entire rum department? Go prepared. Bring your manual. And I would suggest getting a fresh pineapple. Dave has a recipe here for the perfect Pina Colada. Yes, I know, Dave acknowledges this is considered the ultimate bad drink. But in a little Cuban bar, Dave rediscovered the wonders of this guilty pleasure. Ignore the guilt. Enjoy the pleasure.