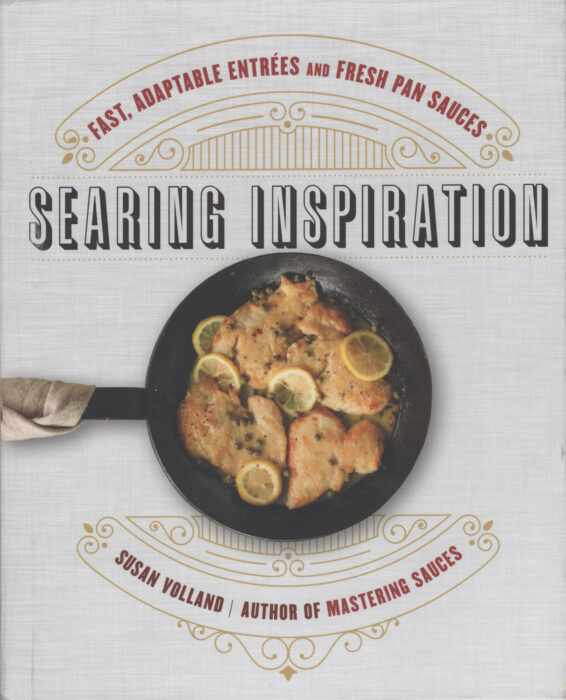 Utterly delicious. Searing Inspiration was published in 2018 and I got an early copy. And then stuff happened and I lost track of the book. I uncovered it this weekend and truly regret the delay in telling you about this most important book.
The subtitle here tells you all: Fast, Adaptable Entrees and Fresh Pan Sauces. I am a devotee of sauces. I love sauces. Sauces transform a "dish" into a "feast." If I could, I would just live in Paris and drift from one sauce to another.
Ah, but now my Paris-dream has an affordable and "do-able" option.
All the lovely dishes in this book are made in two steps: an entrée and then a sauce made using the same pan with wonderful additions: deglazing liquids, aromatics, embellishments, and enrichments.
So, to your pan that you just cooked fish in, you can deglaze with vinegar, add some tomato paste, embellish with mustard, and enrich with heavy cream. There are thousands of potential sauces available for you to ponder in the final pages of the book — where there are lists of each of the components for you. You just pick and choose, create your own combination, and enjoy.
The book has four primary chapters:
Fish and Seafood
Chicken and Poultry
Meats
Vegetables and Eggs
A sampling of the recipes include:
Salmon with Buttery French Pea and Lettuce Broth

Rockfish Fillets with Chinese Sausage and Scallion Oil

Chicken with Hoisin Glaze and Cashews

Tamarind-Glazed Chicken Heaped with Fresh Mint and Cilantro

NY Strip Steak with Strong Mustard Gravy and Crispy rye Crumbs

Lamb Chops with Pomegranate Reduction and Spiced Yogurt Drizzle

Crispy Tofu with Peanut and Red Curry Pan Sauce

Seared Portobello Mushrooms with Stroganoff Sauce
Many of the dishes come with color photographs that inspire your salivary glands. The book presents supreme food styling with all possible seductive power.
The book does begin with thirty pages devoted to sauce fundamentals, recipe specifics, tools, equipment and basics about searing, adding ingredients and controlling the cooking process. Sauces can be intimidating for us, but this detailed introduction holds your hand most firmly.
And that subtitle talked about "adaptable," remember? Well, the final pages of the book with all the options for deglazing liquids and other components — those pages let you take any of the book's own recipes and transform it to your personal taste.
This is a book for culinary exploration and your backpack only needs Searing Inspiration. It will be an important, practical and delicious addition to your kitchen. If not your backpack.
The first recipe in the book is that Salmon with Buttery French Pea and Lettuce Broth. It looks like this: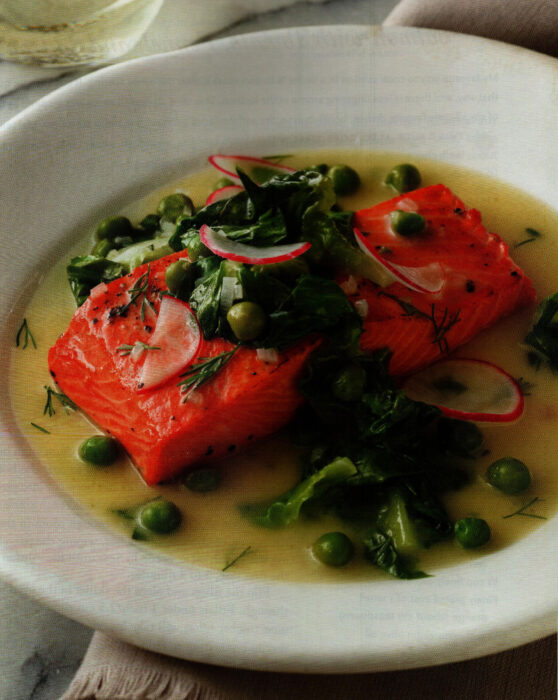 I'm posting the recipe tonight. Try it and you'll realize how lovely, how inspiring is Searing Inspiration.