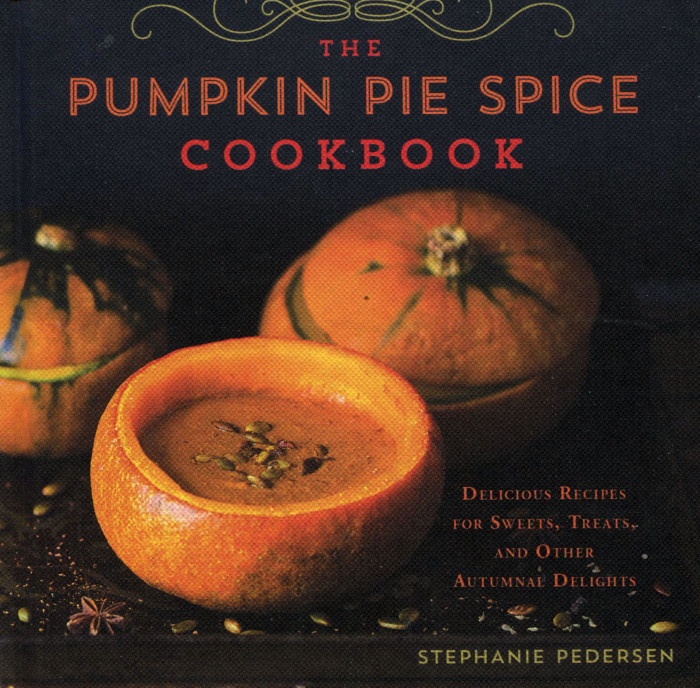 It is there. Somewhere. A little metal can of spices you use once or twice a year. As Thanksgiving approaches, we instinctively buy a can of pumpkin pie spice mix and that one purchase can hang around for years, if not a decade.
Probably after two or three years, there has been some degradation, don't you think? So, you might want to buy a new can each year.
Or, you can use this tidy, tiny little book by Stephanie Pedersen. Here you'll find many uses for that spice mix, so many uses that you'll be able to get through the entire can in a few weeks.
What kinds of things can you use the spice mix in? Well, how about:
Cocktails and Beverages
Appetizers
Sweets
Breakfast
Soup, Stew, and Chili
Main Dishes
Veggie Sides
Condiments
Yes, there are lovely ideas here for your entire eating spectrum. Here are some of the recipe ideas, one from each of those chapters:
Pumpkin Spice Nog

Savory Pumpkin Dip

Spicy Apple Cheesecake

Morning Spice Muffins

Autumn Chile

Caribbean Slowcooker Pulled Pork

Healthy Winter Gratin

Savory Cranberry Chutney
The spice mix is applied with delicacy here so you won't be eating spice with "something else." For example, the lovely Healthy Winter Gratin uses parsnips, celery root, sweet potatoes, baking potatoes, garlic, chicken broth, heavy cream [3/4 cup] and just ¼ teaspoon of the spice. The idea in this recipe and all the others is to provide a spicy tint, not some overwhelming blast.
Me? I'm always heavy handed with spices and I'm likely to make my ¼ teaspoon rather full — ½ teaspoon or more. You can always taste test along the way.
The final chapter in this book is about different pumpkin pie spice blends. Yes, just what is in that can you purchase? Stephanie presents a recipe, shown below, for the generic basic blend that fills most cans. But, she provides a wonderful bonus of alternative spice mixes from around the world:
Scandinavian with cardamom and fennel
Jamaican with thyme and pepper
Spicy with mustard, pepper, and anise
Mexican with cocoa powder, chili powder, and orange zest
Imagine using that Mexican blend in your Thanksgiving or Christmas pumpkin pie?
The Pumpkin Pie Spice Cookbook is a clever volume that will have you searching year round, for that metal can. Or, or, why not just follow this recipe for the basic blend and mix up fresh as you enjoy this iconic spice blend year round.
---
Basic Pumpkin Pie Spice Blend

Yield: 8 tablespoons

Ingredients:

4 tablespoons ground cinnamon
2 tablespoons ground ginger
3 teaspoons ground allspice
2 teaspoons ground nutmeg
½ teaspoon ground cloves
½ teaspoon ground mace
Preparation:

In a small dry bowl, whisk the ingredients together. Place in an airtight container and store in a dry, cool and dark place.