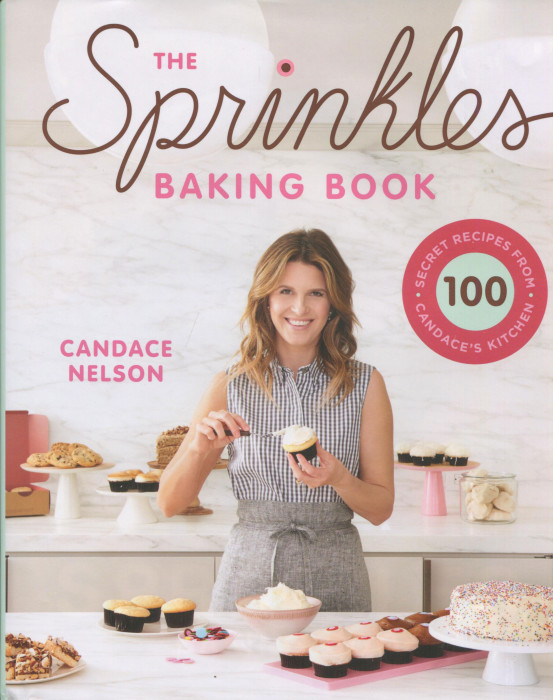 It's here. And it's good. It's really, really good. Yes, the Black and White Cupcake is included and the recipe works perfectly. Perfectly. You can OD on the Vanilla Frosting.
Oh, you want to know more? Candace Nelson opened the Sprinkles chain of cupcakes stores over a decade ago. She was actually the first in the nation to do that. I have made it a personal mission, on my readers' behalf, to investigate every cupcake store and chain that I can. The verdict is simple: a Sprinkles cupcake is always the best. This store is baking greatness.
The best cupcake in the store is that Black and White. Suzi and I made the recipe from the book and found it to work flawlessly. Does the book's recipe taste just like the store's product? Close. Oh, so close. Our cake was just a little different and I attribute that difference to using a different cocoa from Sprinkles. [I'll find out their brand.] The vanilla frosting we made is exactly what you get from Sprinkles. Unquestionably, the perfect vanilla frosting.
For that one recipe alone, you want to get this book. Even if you only do a cupcake once a year, you want the recipes here. This post ends with a picture of Suzi's favorite: the Chocolate Marshmallow Cupcake. I buy one for my charming wife. I ask her if she'll share. She answers. Strongly. I'll be buying two in the future. Or, better, using the Candace's recipe shared in this book.
This cookbook is fully titled The Sprinkles Baking Book. Not, The Sprinkles Cupcake Book. So, oh my, there are lots and lots of things here that are NOT cupcakes. I had no idea that Candace was into:
Cookies
Brownies and Bars
Loaves and Quick Breads
Pies and Tarts
Cakes: Casual and Special Occasion and Birthday
Candies, Puddings and Other Sweets
What do you find in those chapters? Here's a sample:
Caramel Lacquered Pie

Chewy Sea Salt Caramels

Cocoa Mint Brownies

Copper Pot Fudge

Date Honey Sesame Bars

Lemon-Lime Icebox Bars

Sour Cream Cake with Praline Frosting

Tropical Cupcake Trifle
With over a decade of commercial baking experience, Candace has learned many lessons, perfected many recipes, and learned how to communicate with her enthusiastic customers. And now her enthusiastic reading audience. You just don't find a better baking book than this one. The book is beautifully packaged, inviting you to dive sweetly into buttercream and marshmallow and chocolate. The recipes are, surprisingly and happily, simple. But they work. And the directions are easily understood, readily followed.
Let me just mention again that vanilla frosting. I've worked for decades to get a great vanilla buttercream frosting. It's a matter of ingredients, proportion, and technique. Too much of this, too little of that, and you get a frosting for sure but not something that brings tears to your eyes. One bite of this frosting, and you will have that OMG experience that is so rare in life. Rare, that is, until now. The recipe is here, you can make it in a few moments, and you can lick your spatula all day and night long.
Great book. Perfect present. Can't wait for Volume 2.
I'm post the recipe for the Black and White Cupcakes. NOW!