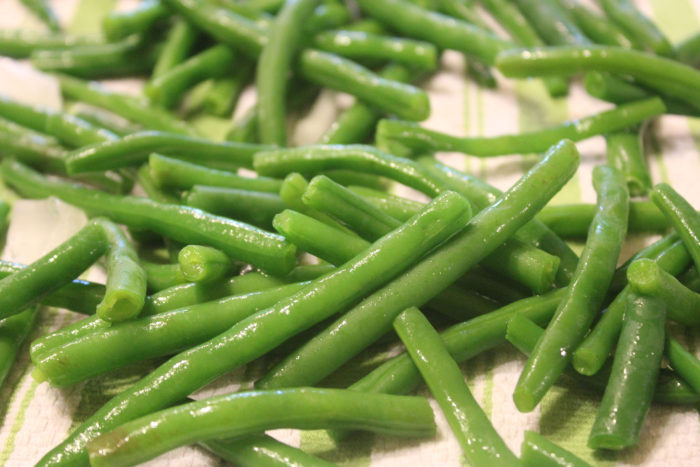 I don't like vegetables. I don't like green beans.
Except, if I can go to a Chinese restaurant have them dripping with sauce, hot sauce, then I am happy. This Sichuan Green Beans recipe is easy, authentic and surely warm to the mouth and heart.
Especially the heart.
This recipe calls for stir-frying. Don't have a wok? Use a cast iron pan and move the ingredients about with vigor!
---
Sichuan Green Beans
Yield: serves 4
Ingredients:
1 pound Chinese long beans or regular green beans, cut on the diagonal into 2-inch pieces
1 tablespoon bean sauce, preferably Koon Chun brand
2 tablespoons black or mushroom soy sauce
2 tablespoons vegetable or chicken broth
1 tablespoon dry sherry
1 tablespoon sugar
2 teaspoons cornstarch
1 teaspoon chili paste, or to taste and tolerance
1 tablespoon sesame oil

3 tablespoons vegetable oil
Preparation:
If using regular green beans, parboil them for 5 minutes. (Regular green
beans are thicker than Chinese long beans.) Put the cut beans in a colander and rinse thoroughly.
Combine the bean sauce, soy sauce, sherry, sugar, cornstarch, chili paste, and sesame oil in a bowl. Add 2 tablespoons cold water.
Heat the oil in a wok until smoking. Add the green beans and stir fry for 10 minutes, or until the beans are bright green in color and slightly wrinkled.
Add the sauce ingredients and stir fry until the sauce thickens.
---
Source: Potsticker Chronicles by Stuart Chang Berman [Houghton Mifflin Harcourt, 2004]