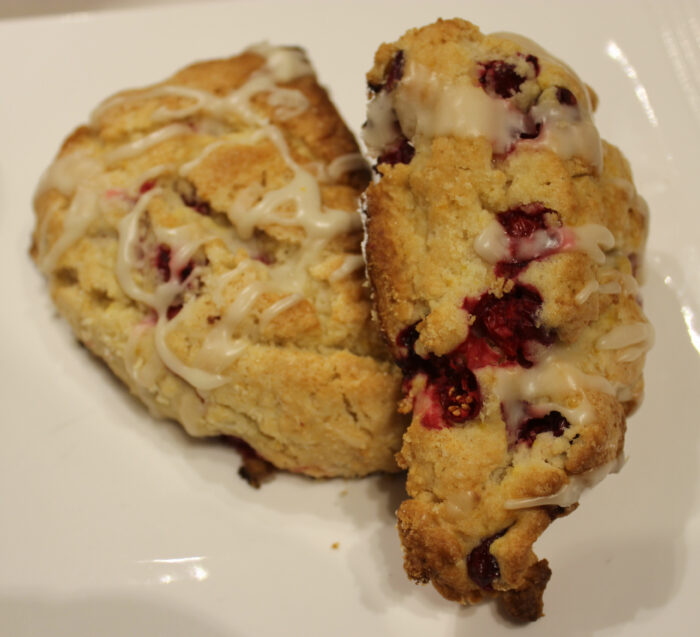 "I have cranberries. I want scones. Find a recipe." Thus commanded my wife. It was a pleasant command. She knows how to bribe me.
I went to the web and quickly found this recipe with an extra benefit: the scones have the zest of an orange and then a light orange glaze.
This is a perfect recipe. Utterly balanced in flavor between the orange and cranberry tang.
The scone itself is light and very tasty — quite unlike many scones that could be called stones. The orange and cranberry flavors are distinct, not overpowering, and a welcome start to the morning.
Make these once. Be prepared to make them over and over again.
This scone is a delight for a weekend brunch in the holiday season. These scones plus some eggs benedict will make your Sunday quite complete.
---
Glazed Cranberry Orange Scones
Yield: 8 large or 16 smallish scones
Ingredients:
For the scones:
2 cups (250g) all-purpose flour (spoon & leveled), plus more for hands and work surface
2 ½ teaspoons baking powder
½ teaspoon salt
Zest from 1 orange
½ cup (115g) unsalted butter, frozen
½ cup (120ml) heavy cream
1 large egg
½ cup (100g) granulated sugar
1 teaspoon pure vanilla extract
1 heaping cup (125g) frozen cranberries*
Optional: 1 Tablespoon (15ml) heavy cream and coarse sugar
For the orange glaze:
1 cup (120g) confectioners' sugar
2–3 tablespoons (30-45ml) fresh orange juice
Preparation:
Whisk flour, baking powder, salt, and orange zest together in a large bowl. Grate the frozen butter using a box grater. Add it to the flour mixture and combine with a pastry cutter, two forks, or your fingers until the mixture comes together in pea-sized crumbs. See video at sallysbakingaddiction.com for a closer look at the texture. Place in the refrigerator or freezer as you mix the wet ingredients together.
Whisk 1/2 cup heavy cream, the egg, granulated sugar, and vanilla extract together in a small bowl. Drizzle over the flour mixture, add the cranberries, then mix together until everything appears moistened.
Pour onto the counter and, with floured hands, work dough into a ball as best you can. Dough will be sticky. If it's too sticky, add a little more flour. If it seems too dry, add 1-2 more tablespoons heavy cream. Press into an 8-inch disc and, with a sharp knife or bench scraper, cut into 8 wedges.
Brush scones with remaining heavy cream and for extra crunch, sprinkle with coarse sugar. (You can do this before or after refrigerating in the next step.)
Place scones on a plate or lined baking sheet (if your fridge has space!) and refrigerate for at least 15 minutes.
Meanwhile, preheat oven to 400°F (204°C).
Line a large baking sheet with parchment paper or silicone baking mat. After refrigerating, arrange scones 2-3 inches apart on the prepared baking sheet(s).
Bake for 22-25 minutes or until golden brown around the edges and lightly browned on top. Remove from the oven and allow to cool for a few minutes as you make the glaze.
Make the glaze: Whisk the confectioners' sugar and orange juice together. Add a little more confectioners' sugar to thicken or more juice to thin. Drizzle over scones.
Notes:
Special Tools: Glass Mixing Bowls, Box Grater, Pastry Cutter, Baking Sheet, Silpat Baking Mat, Pastry Brush
Freeze Before Baking: Freeze scone dough wedges on a plate or baking sheet for 1 hour. Once relatively frozen, you can layer them in a freezer-friendly bag or container. Bake from frozen, adding a few minutes to the bake time. Or thaw overnight, then bake as directed.
Freeze After Baking: Freeze the baked and cooled scones before topping with icing. I usually freeze in a freezer-friendly bag or container. To thaw, leave out on the counter for a few hours or overnight in the refrigerator. Warm in the microwave for 30 seconds or on a baking sheet in a 300°F (149°C) oven for 10 minutes.
Overnight Instructions: Prepare scones through step 4. Cover and refrigerate overnight. Continue with the recipe the following day.
Over-spreading: Start with very cold scone dough. Expect some spread, but if the scones are over-spreading as they bake, remove from the oven and press back into its triangle shape (or whatever shape) using a rubber spatula.
Cranberries: I prefer to use frozen cranberries because they keep the scone dough super cold. Fresh or even dried works too. Same amount.
Orange Juice: I prefer fresh orange juice. You'll have an orange anyway– the one you zested for the scone dough! Store-bought OJ works too, of course.
---
Source: sallysbakingaddiction.com