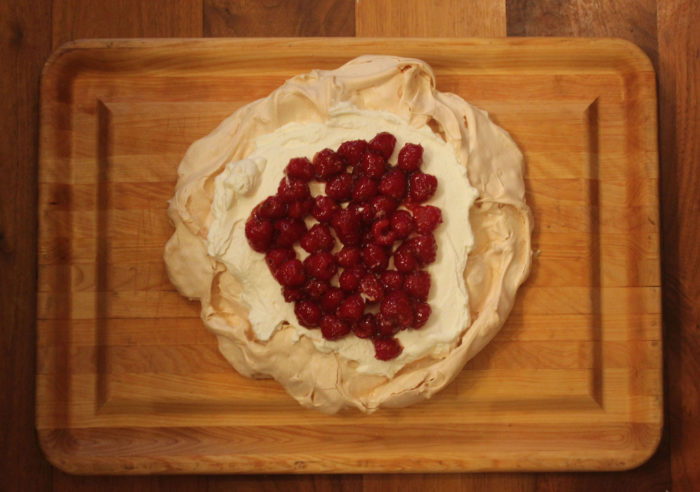 Oh, yes. It is beautiful to behold. I was so proud that I almost did not eat it. I succumbed. Twice.
"You can throw the egg whites away," my wife said to me, "you won't be using them."
"Like hell," I said to Suzi. "Dessert. Pavlova." She relented and handed me the egg whites, thinking I suppose, "There he goes again."
A few hours later, she said, "Wonderful."
The inspiration for this desert comes from the delectable book Meringue by Linda K. Jackson and Jennifer Evan Gardner. In a sentence, a pavlova is a big meringue shell with a high edge, filled first with pastry cream or whipped cream and then topped with fruit. In Meringue, they have a bevy of pavlova ideas. I used their meringue base but the topping is all mine.
You often see strawberries with balsamic vinegar atop a pavlova. We had raspberries and I was worried about raspberries with that vinegar. I wanted something bold and different. So, I used a mixture of Raspberry Pepper Preserves [from https://woodringnorthwest.com/ in Pike Place Market in Seattle] and Zwack Raspberry Liqueur [I believe from Hungary]. The jam and liqueur were mixed into paste and the raspberries thoroughly coated, then spooned onto a base of whipped cream scented with vanilla sugar.
Perfect. Perfect. Perfect.
The meringue technique here for the pavlova is perfect. The careful addition of vinegar, salt and cornstarch creates a thick meringue base that bakes into an ideal pavlova. Don't try this dessert on a humid day – not good for meringue. And don't worry when it disappears the night you serve it. It can be made in minutes – save for the 90 minutes or so to bake and another 90 to cool to the point where you can smear that whipped cream on top. Your patience will be rewarded.
---
Strawberry and Strawberry Jam Pavlova
Yield: serves 8
Ingredients:
For the meringue shell:
4 large egg whites, room temperature
1 teaspoon white vinegar
Pinch of salt
1 cup superfine sugar
1 teaspoon cornstarch
For the whipped cream:
2 cups whipping cream
¼ cup vanilla-flavored sugar
1 tablespoon pure vanilla extract
For the berries:
½ cup raspberry pepper jelly
¼ cup raspberry liqueur
3 cups raspberries, washed and dried
Preparation:
Begin with the meringue shell which will take about 3 hours from start to finish. Work that time into you meal planning.
Preheat your oven to 350⁰F.
In the bowl of an electric stand mixer fitted with the whisk attachment, beat the egg whites until foamy. Add vinegar and salt and beat on medium-high until soft peaks forms. Add the sugar, about a tablespoon at a time, beating until all of the sugar is incorporated. Continue beating on high until the meringue is stiff glossy peaks. Beat in the cornstarch, about 1 minute more.
Like a baking sheet with parchment paper. Pip or spoon the meringue into a 10-inch circle, making the sides higher than the center. Put the pavlova in the oven, lower the temperature to 300⁰ and bake for 1 hour Turn the heat off the oven but leave the meringue shell in the oven for another hour. When completely cool, loosen the meringue by gently peeling it of the parchment or by sliding an offset spatula underneath the shell.
Whip the cream until soft peak form, then add the sugar and vanilla. Beat until stiff.
In a small bowl, put in the jab, add the liqueur and stir until mixed. Add the berries and gently coat.
Spoon the whipped cream over the cooled pavlova. The top with the now very sticky berries.
Serve immediately. This dessert really does not save beyond your dinner table. In your fridge, it will just become a soggy mess. Serve seconds.
---
Source: Brian O'Rourke with inspiration from Meringue by Linda K. Jackson and Jennifer Evan Gardner [Gibbs Smith, 2012]
Photo Credits [top]: Canon T2i, 18-55MM Macro lens, F/4.5, 1/50th second, ISO-250