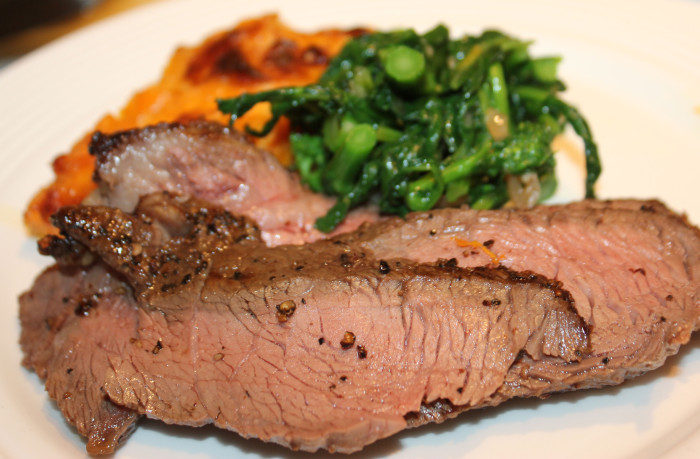 Suzi often has guests from overseas who want a typical American meal. Nothing can match a great steak with bourbon sauce. In our picture here, you see just a trickle of the sauce on top of the meat. Me, I create an ocean of sauce and then immerse the steak. That's tasty but not elegant. Suzi prefers elegant. You can opt for sauce or elegance. I suspect you will go for sauce.
---
Kentucky Bourbon Sirloin Steak

Yield: serves 4

Ingredients:

3 tablespoons coarsely ground black pepper
4 8-ounce sirloin steaks
2 tablespoons olive oil ¼ cup finely chopped shallots
¼ teaspoon freshly grated nutmeg
⅓ cup Kentucky bourbon
1 cup beef stock
½ cup heavy cream
2 tablespoons unsalted butter
Preparation:

Put the black peppercorns in a wide, flat dish. Press the steaks into the peppers to coat them on all sides, then season with salt. Set aside.
Heat the oil in a large, heavy-bottomed pan over high heat for 1 minute. Add the steaks, two at a time if necessary to avoid overcrowding, and cook for 3 minutes per side for medium-rare. Transfer each steak to a dinner plate and set aside.
Add the shallots to the pan and cook for 2 minutes over medium heat. Remove the pan from the heat and add the bourbon, the carefully return the pan to the stove over low heat and cook until the bourbon is almost entirely evaporated, about 2 minutes. Pour in the broth, raise the heat to high, bring it to a boil, and continue to boil until reduced and thickened, 3 to 5 minutes. Swirl in the cream and butter and warm gently.
Pour some sauce over each steak and serve.
---
Source: Epicurious.com