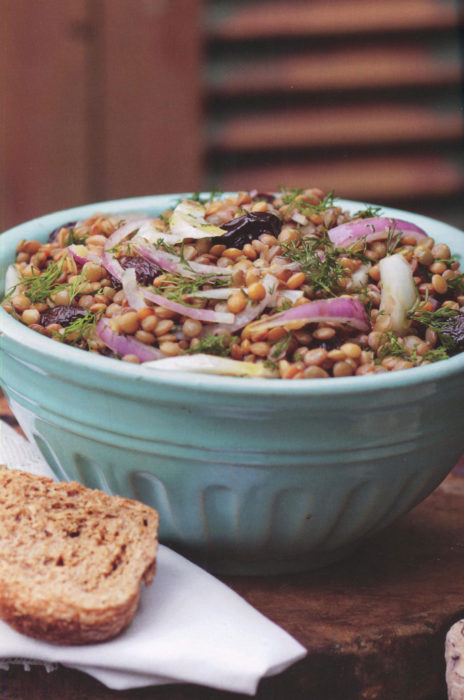 Ikaria, by Diane Kochilas, describes the cuisine of a desert-like island in the Aegean Sea. It's a beautiful land, the homeland of her family, but it is one where people must use every resource for their culinary fare. Fortunately, the sun and the soil on the rocky hillsides are the perfect home for herbs. So, in the spring and early summer, when the rocks are dotted with native greens, this dish is often on the table. Lentils are very popular in the Eastern Mediterranean.
Feel free to make your own adaptions to this dish, changing the herbs, or playing with the olive oil and vinegar you employ. You'll be surprised how those "simple" changes can take this vibrant dish into totally unexpected directions.
---
Lentil Salad with Fennel, Onions, and Lots of Herbs
Yield: serves 4 to 6
Ingredients:
2 cups small lentils, rinsed
1 fennel bulb, trimmed and chopped or thinly sliced
1 large red onion, halved and thinly sliced
½ cup chopped fennel fronds or snipped fresh dill
½ cup chopped fresh Chinese celery or regular celery leaves
⅓ cup chopped fresh mint leaves
2 teaspoons dried Greek oregano
10 olives: Kalamata or wrinkled (salt-cured) black olives such as Greek throumbes or Moroccan
½ cup Greek extra virgin olive oil
½ cup red wine vinegar
Salt
Preparation:
Place the lentils in a pot with enough cold water to cover by 3 inches (7.5 cm). Bring to a boil over medium heat. Reduce to low and simmer, uncovered, until the lentils are tender but al dente, 25 to minutes. Drain and rinse.
Transfer the lentils to a serving bowl and add the fennel, onion, fennel fronds (or dill), celery, mint, oregano, and olives.
In a small bowl, whisk together the olive oil, vinegar, and salt to taste. Pour into the salad, toss well, and serve.
---
Source: Ikaria by Diane Kochilas [Rodale 2014]