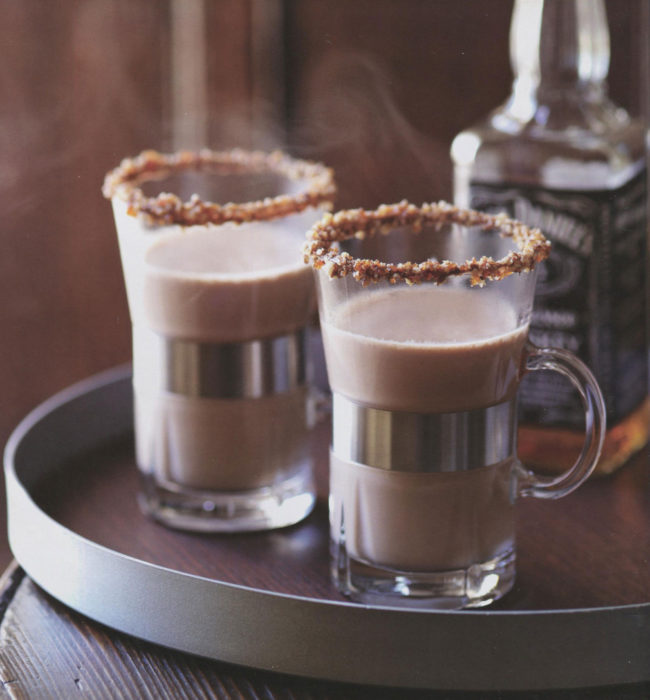 Tired from a weekend of skiing or cleanup or kids activities? Want to just curl up and relax with something exceptional in your mug? If you like maple syrup and nuts and bourbon and hot chocolate, you can combine them all here in one "not simple" beverage. This delight takes a little time because you make pecan praline. Don't worry, if there are leftovers you are allowed to eat them. Or make more hot chocolate and coat another rim.
---
Maple Pecan Bourbon Hot Chocolate

Serves 2

Ingredients:

¼ cup caster/superfine sugar
3 tablespoons pecan halves
3 ½ ounces. milk chocolate, chopped
1 cup double/heavy cream
1 cup milk
⅓ cup maple syrup
1 teaspoon vanilla bean paste or pure vanilla extract
⅓ cup bourbon whiskey
Silicone mat or greased baking sheet
Food processor or blender
Preparation:

For the pecan praline, heat the sugar in a saucepan until it melts, swirling the pan to prevent the sugar from burning. Do not stir with a spoon. You need to watch very carefully because it can burn very easily. Once the sugar is a golden caramel color, spread the pecans out on a silicone mat or greased baking sheet, and then pour over the melted sugar. Leave to cool, then blitz to fine crumbs in a food processor or blender. Place the praline powder on a plate.
Next prepare two heatproof glasses. Place the chopped chocolate in a heatproof bowl over a pan of simmering water and heat over low heat until melted. Carefully dip the rim of each glass into the melted chocolate, then roll the edge of the rim of each chocolate-coated glass in the praline to decorate. Set aside until you are ready to serve.
Spoon the remaining melted chocolate into a saucepan and add the cream, milk, maple syrup, vanilla and bourbon, and simmer over low heat until combined, whisking all the time. Pour the hot chocolate into the prepared glasses, taking care not to pour it over the chocolate-praline decoration. Serve immediately.
---
Source: Hot Chocolate by Hannah Miles [Ryland Peters & Small, 2015]