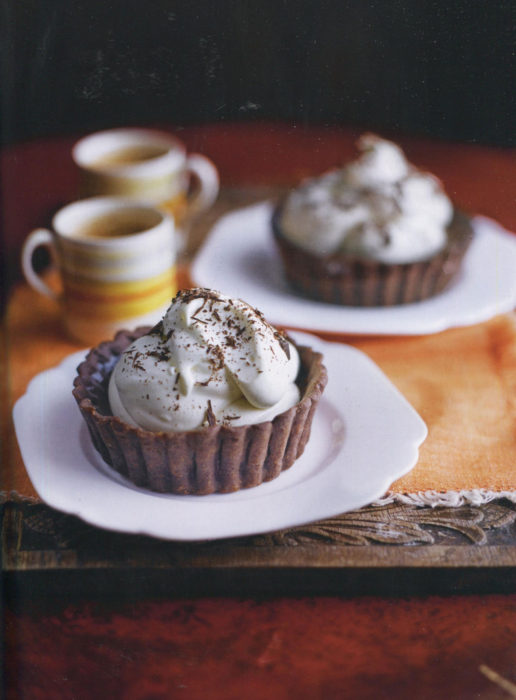 When I was growing up in Oregon, I ate pie. A tart? A tart? I wanted deep dish apple pie, not some thin slab that was disappointing from every aspect. The only tart I did like was this girl down the street, but that's a different tale. I heard she became quite religious and turned her life around.  Became a baker, I was told. Tarts?
I left Oregon. Oregon became more culinary sophisticated. Me, too. I love tarts and Suzi taught me to embrace the savory side of life: onion tarts, cherry confit tarts, … Still, if you mention a dessert tart, my heart will beat fast. Say chocolate and my heart pounds. Say coffee — an addiction that I acquired only post-Oregon — and my heart is on the edge of spasms. Happy ones.
This recipe is from Higgidy: The Cookbook. I reviewed this British book recently and I cannot recommend it more highly. Britain is the homeland of pies, both sweet and savory. This sweet one combines coffee and chocolate in high manner.
Ah, the recipe here calls some Chocolate Shortcrust Pasty. You can find the recipe in your copy of Higgidy — yes, I want you to buy the book. You can, of course, substitute regularly shortcrust pastry for a shifted and less intense flavor. Trust me, you want the book. I would never tart you.
Yes, I'm mixing measure units here: grams and ounces instead of grams and milliliters [ml]. I cannot convince you to measure liquids with the metric system but a digital scale can give you grams, and better results.
---
Mochaccino Tarts
Yield: 6 tarts
Ingredients:
Equipment:
6 4-inch round fluted tartlet tins
For the tart:
1 quantity of Chocolate Shortcrust Pastry (see page 215)
A little plain flour, for dusting
4 medium egg yolks, lightly beaten
50 grams superfine sugar [dark superfine if you can find it]
150 grams dark chocolate (at least 70% cocoa solids), broken up, plus extra for shavings to decorate
5 ounces espresso or strong coffee, cooled
1 ½ ounces coffee liqueur, such as Kahlua
6 ½ ounces double cream
For decoration:
13 ounces heavy cream
3 teaspoons confectioners' sugar
Preparation:
Make the chocolate shortcrust pastry according to the method on page 215 and put it into the fridge to rest for 30 minutes.
On a lightly floured work surface, roll out the pastry to a very thin 1/8th inch thick. Cut out six‑inch circles and line the tartlet tins with them. Prick the bases with a fork and chill in the fridge for 30 minutes.
Preheat the oven to 400˚F and put a baking sheet in to heat up. Remove your pastry cases from the fridge, line with crumpled non-stick baking paper and fill with baking beans (see page 211). Bake on the hot baking sheet for 15 minutes, then remove the paper and beans and return to the oven for 5-8 minutes or until the pastry is dry and completely cooked through. Remove the pastry cases from the tins and set aside to cool completely.
Beat the egg yolks and caster sugar in a large bowl. Put the chocolate, espresso, coffee liqueur and cream into a separate bowl and stand it over a pan of barely simmering water until melted. Gradually pour the chocolate mixture into the egg mixture, whisking until well mixed, then transfer everything to a clean pan.
Place over a gentle heat, stirring constantly with a wooden spoon until the mixture thickens to form a custard. Remove from the heat and pour through a sieve into a jug. Now carefully pour into the pastry cases and place them in the fridge for a minimum of 2 hours to set.
6To decorate, whip the cream and icing sugar to soft peaks and spoon on top of the tarts, creating a nice swirl with the back of your spoon.
Decorate with chocolate shavings.
---
Source: Higgidy The Cookbook by Camilla Stephens [Mitchell Beazley, 2018]