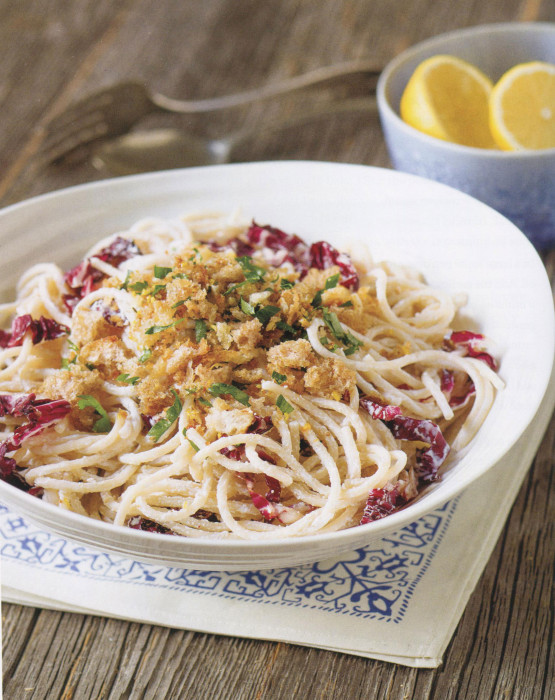 Last December I posted this recipe and I just was kinkly informed that I had left off four of the ingredients: like the spaghetti, radicchio, lemon juice and ricotta. It was a blunder and I appreciate the correction. Here is the recipe in full.
In The Lemon Cookbook, Ellen Jackson very convincingly presents the idea that we can use lemons from breakfast to midnight. Lemon can be a dominant element, as in lemonade, or more often provide just the accents needed to take a dish from good to wonderful.
On these winter nights, here's a hearty pasta dish that does not have meat or meatballs. Instead you will find veggies, cheese and lemon-garlic bread crumb dusted on top. You can personalize this dish by swapping out and using different veggies or cheese, but, oh no, those lemon-garlic bread crumbs are simply mandatory.
You can make a lot of those bread crumbs. A lot. And tomorrow, take a boneless chicken breast, coat it with mustard and roll it in the breadcrumbs. Bake until done and thank God for garlic and lemon.
---
Spaghetti with Radicchio, Ricotta, and Lemon-Garlic Bread Crumbs

Yield: 4 to 6 servings

Ingredients:

¼ cup plus 2 tablespoons extra-virgin olive oil, divided
4 cloves garlic, finely chopped
2 cups fresh bread crumbs
Pinch kosher salt
1 cup lightly packed, coarsely chopped fiat- leaf parsley leaves
2 tablespoons finely chopped lemon zest (from 2 medium lemons), divided
Freshly ground black pepper
2 tablespoons unsalted butter
1 1-pound head of radicchoi, finely shredded
2 tablespoons freshly squeezed lemon juice, divided
1 pound good-quality spaghetti or linguine
1 cup ricotta cheese
Preparation:

In a large sauté pan over medium heat, warm ¼ cup of the oil. Add the garlic and cook, stirring occasionally, for 2 to 3 minutes, or until fragrant. Add the bread crumbs and a generous pinch of salt, and continue to stir until the bread crumbs are toasted and brown. Transfer the crumbs to a bowl and set aside to cool slightly. When they are cool, add the parsley and add 1 tablespoon of the zest. Season to taste with additional salt and pepper, and set aside.
Wipe any crumbs out of the pan, add the butter, and melt it over medium heat. When the butter is foamy, add the radicchio and cook until it wilts and softens slightly, 2 to 3 minutes. Add 2 tablespoons of water and simmer for 2 minutes, or until the water evaporates, then add 1 tablespoon of the lemon juice. Set aside.
Bring a pot of generously salted water to a boil and cook the linguine according to the package directions. While it cooks, combine the ricotta with the remaining 2 tablespoons of oil, 1 tablespoon zest, and 1 tablespoon lemon juice.
Taste and add more juice if necessary. Before draining the pasta, set aside 1 cup of the cooking water.
Return the pasta to the pot. Add some of the pasta water to the ricotta mixture, to loosen it and warm it up, before tossing it with the pasta. Add the radicchio and half of the bread crumbs, and toss to combine, adding more of the pasta water if it appears dry. Place the pasta on a large platter and garnish with the rest of the bread crumbs. Serve immediately.
---
Source: The Lemon Cookbook by Ellen Jackson [Sasquatch Books, 2015]