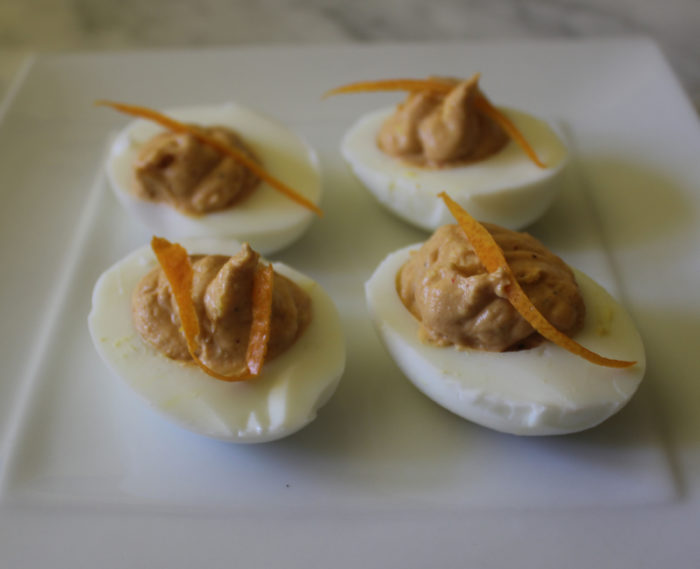 More and more you see recipes for deviled eggs. It may seem like déjà vu but these appetizers draw massive applause. For her cooking school, Cooking by the Book, Suzi has to have appetizers for 20 or 30 people ready to go 5 nights a week. She's discovered that people simply love to gobble deviled eggs down.
But eggs for 20 or 30? That's a big pot of boiling water. And boiling eggs to make them hard can be tricky: the water running low, some eggs cracking, some overcooking and turning green …
Lucky for Suzi, she has the ideal appliance for cooking eggs [and more]: the Jenn-Air® Steam and Convection Oven. It's a "smart" appliance, a very smart one. The oven comes with a touch screen. It says "10:15" in the photo here but that screen can do so much more. Press "Most Used" and just navigate to "eggs," select "hard cooked" and press "OK." No water worries. No watching. The oven knows those eggs need sixteen minutes.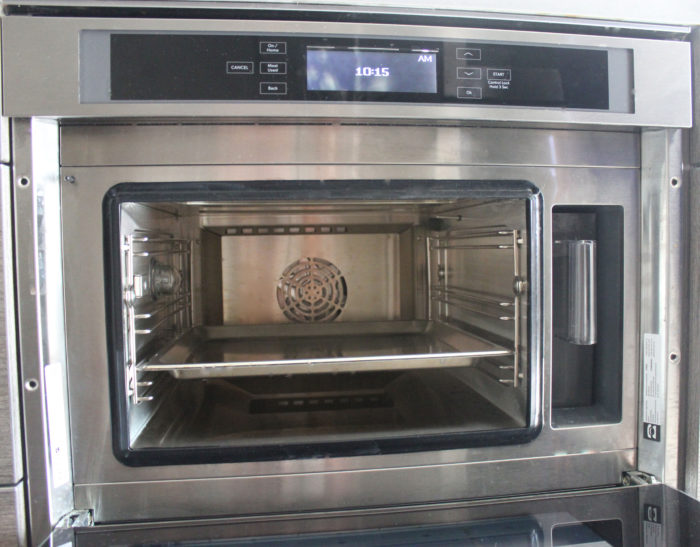 Let the eggs cool then devil away. Need some good deviled eggs recipes? You want Deviled Eggs by Debbie Moose. That's where we found this recipe with chipotle and orange zest. It's hot and, no, the orange zest does not put the fire out. But you will enjoy every bite.
Need deviled eggs for 20 or 30 people? The Jenn-Air Jenn-Air® Steam and Convection Oven can do two dozen eggs at a time. Put your big pot away!
---
Satan's Smokin' Oranges
Yield: 12 halves
Ingredients:
6 hard-cooked eggs, peeled, cut in half, and yolks mashed in a bowl
2 tablespoons plus
2 teaspoons mayonnaise
2 teaspoons salad dressing, such as Miracle Whip
½ teaspoon white wine vinegar
½ teaspoon prepared yellow mustard
1 teaspoon chopped canned chipotles
½ teaspoon finely grated orange zest, plus more for garnish
Salt and black pepper to taste
Preparation:
Combine the thoroughly mashed yolks with the mayonnaise, salad dressing, vinegar, and mustard. Blend in the chipotles and orange zest. Taste, then season with salt and pepper.
Fill the whites evenly with the mixture and garnish each egg half with a little orange zest.
---
Source: Deviled Eggs by Debbie Moose [Harvard Common Press, 2004]