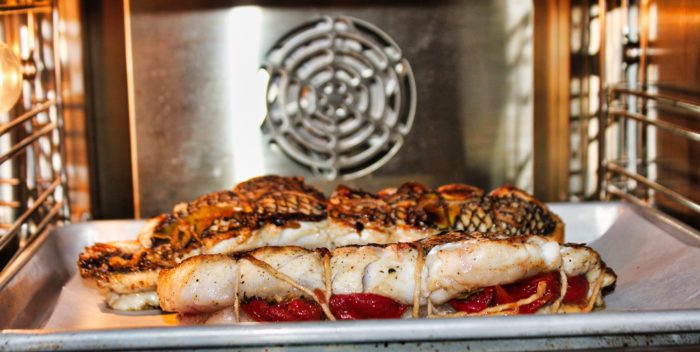 Cooking fish can be tricky. We tend to overcook them, concerned about encountering one of those soft "uncooked" portions on your plate. It's a worry. Or has been. Do you want a perfectly cooked piece of fish that remains tender and moist? Here's a solution: sear the fish in skillet and finish in the oven, the Jenn-Air® Steam and Convection Oven.
The steam provides moisture to prevent drying. The convection oven, powered by that fan at the rear of the oven space, generates a moving air stream of uniform heat. The fish is cooked uniformly, is not dry, and provides that "restaurant quality" you dream about.
This recipe employs a steam and convection oven. How hot? How long? Ah, the answers come from the very, very smart technology bundled into that Jenn-Air® applicance. The oven has a touch panel that operates like your iPad or tablet. You navigate to what you want to cook, tell the oven how you want it cooked, and indicate much you have. With this recipe, you just tap on "fish" and "baked" and the amount you have placed in the oven.
Ah, in this recipe, the fish is pan seared before going into the steam oven. There is no setting for using partially cooked fish, so you do need to monitor the fish's progress. We've found that they are done in about half the recommended cooking time on the panel. It's easy to monitor and the payoff is simply delicious.
The Jenn-Air® Steam and Convection Oven has that incredible built-in intelligence and, even better, is easily installed in your kitchen. The steam comes from a water container that you refill by hand – with that touch screen alerting you if more water is need. No plumbing is needed for installation.
Adding steam to your fish cooking is a quantum step, one you'll wonder how you ever did without. And, no, using fish wrapped in banana leaves over a wok is not the same thing. Not at all!
---
Seared Sea Bass in Roasted Tomato Broth
Yield: serves 4
Ingredients:
Four 6-ounce black sea bass, striped bass or red snapper fillets
Salt and freshly ground pepper
4 Roasted Tomato Halves
12 bay leaves
4 large thyme sprigs, plus 1 tablespoon thyme leaves
2 ½ tablespoons extra-virgin olive oil, plus more for serving
1 ½ cups Roasted Tomato Juices
Preparation:
Put the bass fillets together to form 2 whole fish; cut each one crosswise to form 2 pieces of equal weight; the thinner tail pieces will be longer. Separate the fillets and season them with salt and pepper. Lay a roasted tomato on half of the fillet pieces and top with 2 bay leaves and a thyme sprig. Cover with the matching fillets and tie each bundle in three places with kitchen string. insert a bay leaf under a string in each bundle and season with salt and pepper.
In a large skillet, heat the 2 1/2 tablespoons olive oil over moderately high heat. Add the fish bundles to the pan, skin side down. Cook the fish over moderate heat until the skin is browned and the bottom fillets just begin to cook through, about 3-4 minutes. Transfer the bundles to the steam oven, use the menu and begin cooking. Note the cooking time and, because you have already pan seared the fish, at the halfway point test the fish for doneness. Cook a bit longer if necessary but avoid overcooking.
Meanwhile, in a small nonreactive saucepan, gently simmer the tomato juices for 3 minutes. Season with salt and pepper.
Spoon the tomato juices onto plates and set the fish bundles on top. Garnish with the thyme leaves and a drizzle of olive oil. Don't eat the strings or the bay leaves.
---
Source: Food and Wine
Photo Information: Canon T2i, EFS 60mm Macro Lens, F/5 for 1/60th second at ISO‑60