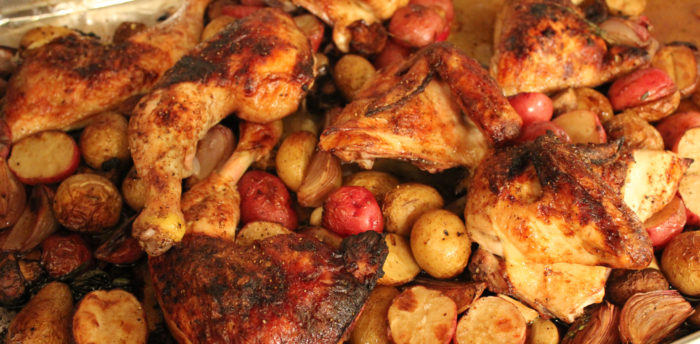 Summer cooking presents some challenges. We want great food, we can be tired at the end of long hot days, and so not quite motivated to spend a lot of effort in the kitchen. And surely not a lot of time cleaning up.
What if cleaning up meant lifting off a sheet of aluminum foil from one of your sheet pans? This recipe, from Everyday Dorie by Dorie Greenspan, meets all your needs. Chicken, potatoes, mushrooms, and onions are mixed with herbs and balsamic vinegar. The result is a sheet of delight that will please family and guests. And without tiring you. Just strip off the dirty foil and pour yourself another sangria.
Oh, the picture above. We did not have mushrooms but we did have a lot of potatoes!
---
Sheet-Pan Supper: Balsamic Chicken with Baby Potatoes and Mushrooms
Yield: serves 4
Ingredients:
1 ½ pounds small potatoes, scrubbed and halved if large
½ pound white mushrooms, wiped clean, trimmed and cut in half if large
1 large shallot or medium onion, cut into 8 wedges, rinsed and patted dry
4 garlic cloves, unpeeled
8 sprigs fresh rosemary
8 sprigs fresh thyme
Fine sea salt and freshly ground pepper
6 tablespoons (90 ml) extra-virgin olive oil
4 tablespoons balsamic vinegar
4 whole chicken legs (thigh and drumstick), patted dry
Preparation:
Center a rack in the oven and preheat it to 450 degrees F. Rub a baking sheet with a little oil (or line it with foil and oil the foil).
Put the potatoes, mushrooms, shallot or onion and garlic in a large bowl. Toss in 4 sprigs each of the rosemary and thyme, 1 teaspoon salt, a few grindings of pepper, 3 tablespoons of the oil and 3 tablespoons of the balsamic. Mix everything well and spread the ingredients out on the baking sheet.
Put the chicken in the bowl, along with the remaining 3 tablespoons oil and 2 tablespoons balsamic, 1/2 teaspoon salt and a good amount of pepper, and mix well to coat the chicken. Move the vegetables around to make room for the chicken. Tuck the remaining herbs under each piece.
Roast the chicken for 40 minutes to 1 hour, until a thermometer stuck into the thickest part of a thigh measures 165 degrees F.
Serve everything on the baking sheet or a big platter; pour over the cooking juices.
---
Source: Everyday Dorie by Dorie Greenspan [Rux Martin/Houghton Mifflin Harcourt, 2018]