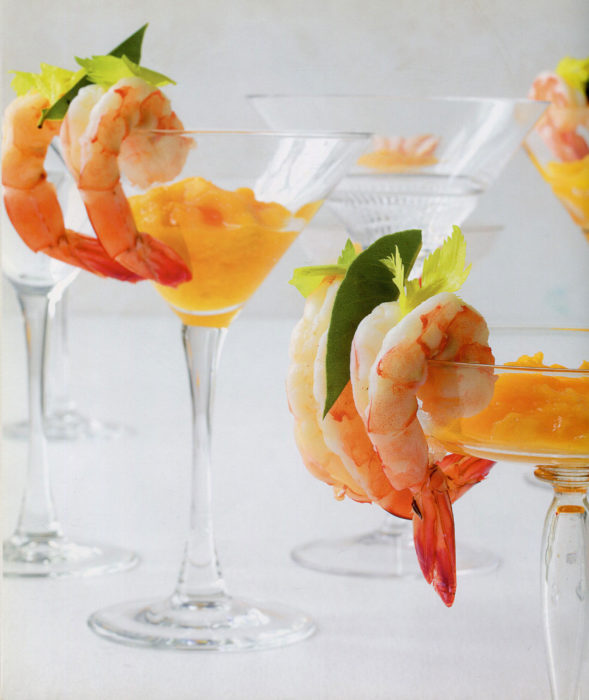 How about a Football Party? We have parties for the end of the season, for the Super Bowl, but we don't celebrate enough at the start of the season. I do understand that tailgating is a party but how many of us have $400 tickets to go see the Giants play?
Party at home and party now with some of summer's bounty still abounding. Like peaches. Who would combine peaches and shrimp? Why famed Jean-Georges Vongerichten would. This recipe comes from Home Cooking with Jean-Georges and it typifies the glamorously delectable ideas that bubble in his head.
This is fascinating dish that you can enjoy in a game this weekend, or Monday night, or Thursday night. Thank God, the NFL is back. And thank God for the Chiefs and their thumping of Brady in the season opener. Cheaters deserve to lose. Take that advice from a diehard Jets fan. It'll be a long season for me. I'll be using Home Cooking for sustenance and comfort.
---
Shrimp with Peach Cocktail
Yield: serves 4
Ingredients:
For the peach cocktail sauce with horseradish:
1 large very ripe peach, peeled and pitted
1 tablespoon finely grated peeled fresh horseradish
2 tablespoons grade A maple syrup
1 tablespoon champagne vinegar
1 teaspoon fresh lime juice
1 teaspoon sugar
½ teaspoon kosher salt
For the shrimp:
¼ cup champagne vinegar
5 sprigs fresh thyme
1 dried bay leaf, plus fresh leaves for garnish
1 tablespoon plus 1 teaspoon kosher salt
1 pound large (16- to 20-count) shrimp, shelled and deveined, tails kept intact
Celery leaves, for garnish
Preparation:
To make the sauce, grate the peach on the large holes of a box grater over a bowl to collect all the pulp and juices. Add the horseradish, maple syrup, vinegar, lime juice, sugar, and salt. Stir until well combined. Cover and refrigerate until cold.
Meanwhile, cook the shrimp: Combine 1 quart water, the vinegar, thyme, dried bay leaf, and salt in a large saucepan. Bring to a boil over high heat, then adjust the heat to maintain a bare simmer. Add the shrimp and poach until just opaque throughout, about 3 minutes. Drain and discard the thyme and bay leaf.
Fill martini glasses or a shallow bowl with the sauce. Hang the shrimp around the edge of the glasses or bowl and garnish with celery leaves and fresh bay leaves. Serve immediately.
---
Source: Home Cooking with Jean-Georges by Jean-Georges Vongerichten [Clarkson, 2011]