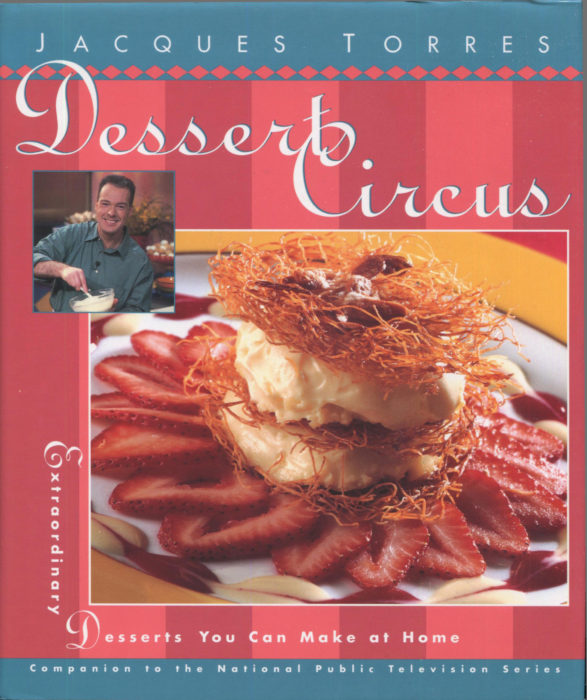 The name Jacques Torres is synonymous with dessert and surely with chocolate. This 1998 book was a companion to a PBS television series where he had guest chefs, like Julia Child, elbow deep in chocolate. Many of these recipes comes from his stint as pastry chef at Le Cirque 2000. It was another era is restaurants in NYC.
This is really two cookbooks, one of classics and one of art.
The first half of the book is filled with things you've seen and tasted, and quite possibly cooked for yourself. The basics of pastry:
Crème Anglaise
Pastry Cream
Lemon Curd
Buttercream [two ways]
Meringue Layers
Napoleons
You probably have recipes for those already in your kitchen, though having a version perfected by Jacques would been a boon to you.
It's the second half of the book where the whimsy and creativity of Jacques are on full display:
Chocolate Soup with Caramelized Bananas
Crepes with Caramelized Pears
Roasted Pineapple
Whole Roasted Peaches with Fresh Almonds and Pistachios
Grape Terrine
Chocolate Coconut Shells with Grand Marnier
The Manhattan [a signature dessert, a layered tower of chocolate biscuits and chocolate cream]
The chapters on Fruity Delights, Signature Desserts, and Frozen Finales are ones that make this book a serious one to consider. These are the upscale desserts of Le Cirque at the turn of the century and they remain visually spectacular. They taste pretty darn good, too. Here, the recipes have been written for your own culinary adventure. There are many ingredients, a few pages of instructions, but happily a grand photo to inspire you as you maneuver from flour and chocolate to masterpiece.
Dessert Circus was a wonderful creation of taste twenty years ago. It remains so today.