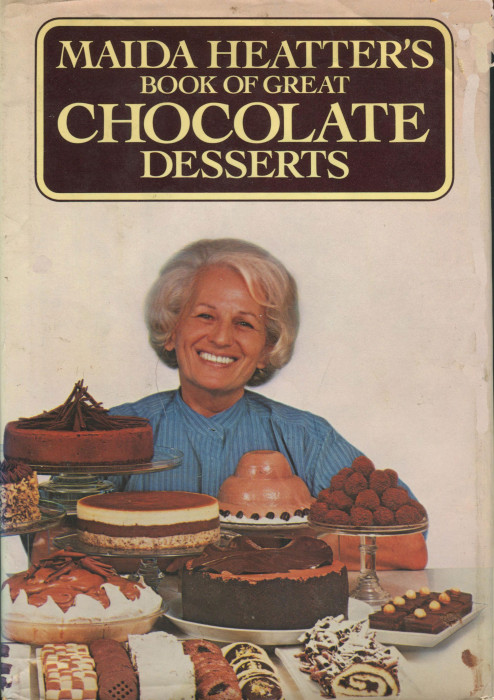 This book is 39 years old and remains a classic. It grows in stature and importance with each decade. This book is compendium, some Maida recipes from earlier books [her cookie book!] and then ones that were new in 1978.
The recipes are in five big chapters:
Cakes
Cookies
Pastries
Cold and Hot Desserts
Other [Confections, Sauces, Decorations, Drinks]
You have dig into each of these chapters to get the finer detail. For example, Cakes is really divided into 6 groups:
Cakes Without or Almost Without Flour
Layer Cakes with Filling and Icing
Chocolate Cakes with Fruit
Old-Fashioned Cakes without Icing
Loaf Cakes
Cheesecakes
Here's a dozen recipes, two from each of those chapters:
Craig Claiborne's Rum Chocolate Dessert

Chocolate Carrot Torte

Chocolate Buttermilk Layer Cakes

Hungarian Seven-Layer Cake

Chocolate-Nut-Prune Cake

Chocolate Pumpkin Cake

Chocolate Angel Food Cake

Chocolate Gingerbread

Orange Chocolate Loaf Cake from Florida

Sour Cream Chocolate Loaf Cake

Mocha Velvet Cheesecake

Chocolate-Marbleized Cheesecake
There are classics here that you want to discover or rediscover. The Craig Claiborne Rum Chocolate Dessert is surely one. When Claiborne published this recipe in The New York Times, he said it was just the solution for the most universal of food cravings: chocolate. It's a pudding/cake that has a little flour but a half dozen eggs.
Wandering through the cake chapter is a slow process. You want to stop, think, ponder cooking right then and there, and and then you'll proceed on in pleasant confusion. The only solution here is to go to Recipe#1, the Craig Claiborne one, and working your way forward. It'll take a year to get through the cakes, assuming you need two days to consume each one. Don't worry, you have all those other chapters to look forward to.
If you don't have this book, if you have never explored anything by Maida, then you are about to have quite an experience.