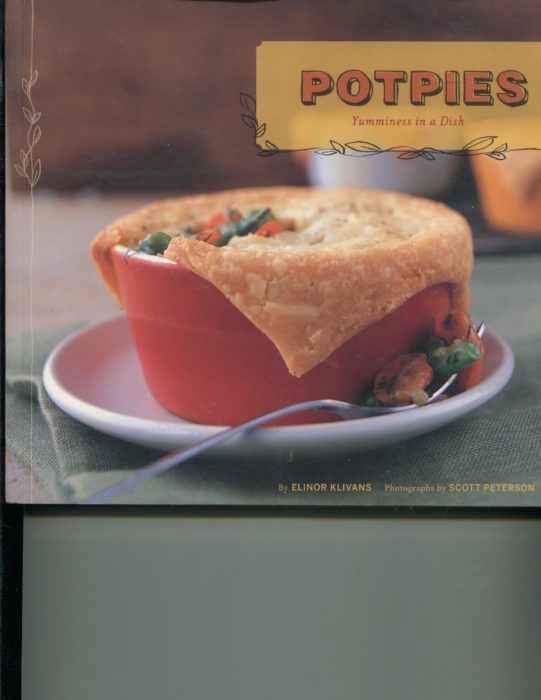 It is highly likely that you have eaten one of Elinor Klivans' magnificent dessert ideas. Over the past 20 years, she has written nineteen cookbooks including the renowned Big Fat Cookies and Bake and Freeze Desserts.
It's has not all be cookies and pies and cakes, though. In 2006, she released Potpies. Now, on the scale of comfort food, potpies rank high in favor but also high in the belief that they are "hard to make."
Suzi and I do have a favorite chicken pot recipe — which I have never posted but will — and it is hard. We make a triple batch once a year and spend about six hours from beginning to end. There seems to be endless chopping and slicing and dicing. The resulting pie? Magnificent.
The genius of Elinor's Potpies is how to achieve potpie excellence but with less effort. And, it does not have to be chicken! Do you say "potpie" or "chicken potpie?" I bet you usually toss that chicken into the phrase as well as into the phrase.
So, there is a core section in the book devoted to the elegant Chicken Potpie. Elinor giggles a bit at a two-for-one benefit: cook the chicken with lots of liquid and veggies to have both chicken meat for the pie and homemade chicken broth. Homemade is a mantra for Suzi and me. Compare homemade broth with a can of store-bought and you'll understand why.
There are five key chapters in the book. First, naturally is Rolled Crusts. Here a Flaky Crust, an Easy Cream Cheese Crust, and an Extremely Flaky Sour Cream Crust.
Crust in hand, you'll enjoy Ten Especially Potpies with ideas like:
Chilaquiles Potpie

Broccoli, Blue Cheese and Walnut Potpie

Dilled Crabmeat Potpie with Phyllo Crust

Deviled Crab Potpie
Now you begin to see the genius of this book: different ingredients, different crust concepts, different looks.
That Chicken Potpie can be considered the American version of this dish. But in A World of Potpie Classics Elinor suggests ideas from far and wide:
Chicken Curry Potpie

Individual Empanada Potpies

Italian Picnic Potpie

Lobster Potpie

French Spiced-Beef Hash Potpie with Mashed Potato Topping
In New Takes on Potpies, Elinor's vivid imagination is on display. She takes some of the the world's recipes, add some extra zip and you have:
Chicken in Red Wine Potpie

Mediterranean Fish Stew Potpie

Costa Rica Spicy Picadillo and Plantain Potpie

Hungarian Chicken Goulash Potpie with Crisp Noddle Topping
It is not true that potpie must have protein. In A Garden of Vegetable Potpies for Every Season provides some lovely ideas where you won't miss the chicken:
Eggplant Parmesan Potpie

Leeks in Mustard Cream Potpie

Onion, Spring Onion, and Potato Potpie

Summer Tomato, Cheese and Black Olive Potpie
This is a typical Klivans' book: excellent, easy, and one you will enjoy for years. If you like crust, if like veggies and, yes, if you like chicken, you need Potpies.