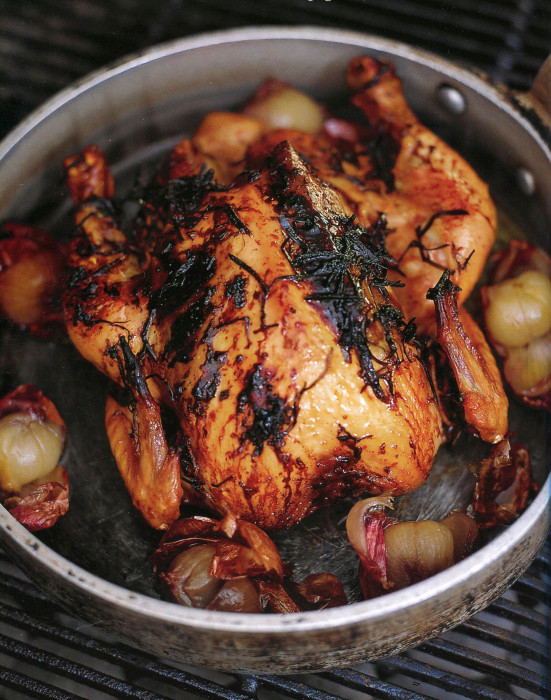 Arrows was an acclaimed restaurant in Maine, the forerunner of the grand parade of fine establishments there now. Time and again, Suzi and I return to The Arrows Cookbook for inspiration and great, great meals. Yes, this recipe tastes like chicken, but it's like chicken is supposed to be. And, no, lemongrass is not indigenous to Maine!
Most of us love chicken. Well, we eat chicken and we do privately often long for something exceptional. Chicken can be boring, even roasted chicken. Okay, particularly roasted chicken.
Yesterday I did a cookbook review of The Arrows Cookbook from the famed [and now gone] Maine farm house restaurant. You might not think of Maine as an Asian outpost, but they do grow lemongrass there. And at Arrows they devised this chicken delight with that lemongrass, kaffir lime leaves, ginger root, sesame oil, and soy sauce. This is chicken using ingredients spread across the planet. It was a restaurant favorite and can become one of your favorites, too.
The Arrow team suggests that you served this, of course, with steamed jasmine rice and a Sweet-and-Sour Fennel Salad that you can find in The Arrows Cookbook. Oh, you don't have a copy? You really need one.
Really.
---
Lemongrass and Lemon Roasted Chicken
Yield: serves 6
Ingredients:
4 stalks lemongrass, yellow part only
1 large roasting chicken, about 5 pounds
4 kaffir lime leaves
Finely grated zest and juice of 2 lemons
1 tablespoon finely chopped gingerroot
2 tablespoons sugar
2 tablespoons sesame oil
2 tablespoons vegetable oil
2 tablespoons soy sauce
Preparation:
Cut the lemongrass into 1-inch sections, then cut the sections in half lengthwise.
Gently lift the skin of the chicken around the breast and insert half of the lemongrass under the skin. Put the remaining lemongrass and 2 of the lime leaves in the cavity.
Finely chop the remaining 2 lime leaves. Put them in a large shallow bowl and add the lemon zest and juice, ginger, sugar, sesame and vegetable oils, and soy sauce.
Add the chicken, turn it around in the marinade to coat, and cover with plastic wrap. Refrigerate for at least 2 hours or up to 6 hours, turning once during this time.
Preheat the oven to 350 degrees F.
Transfer the chicken to a roasting pan (discard the marinade) and roast for IV2 hours, basting occasionally, until the juices run clear when the meat is pricked with a knife. Remove the lemongrass and lime leaves from the cavity, cover the chicken with foil, and allow it to rest for 10 minutes. Carve the chicken and serve at once.
Source: The Arrows Cookbook by Clark Frasier and Mark Gaier [Scribner, 2003]