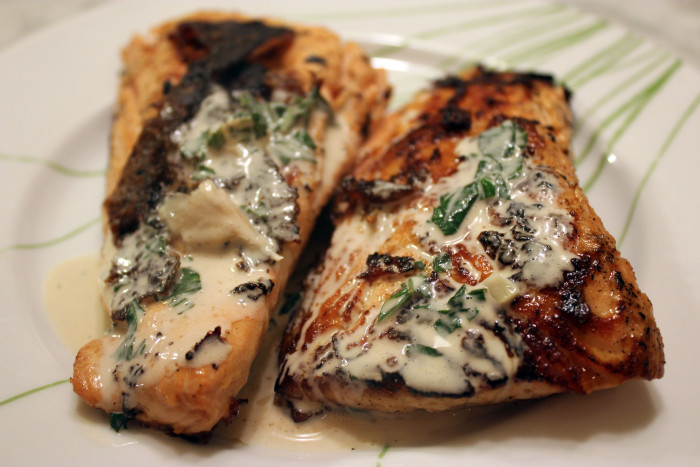 Well, it's only October 29th. Not quite too late to celebrate National Seafood Month, although I did miss National Salmon Day on October 8th.
I was contacted by representative for the Alaska Seafood Marketing Institute. You can guess: they have fish and they would like us to buy more. I like fish and my doctor just said two words to me: "More fish." The representative was timely and intriguiing, for she told me the Institute had worked on ways to cook frozen fish without defrosting it first. Just out of the freezer into the hot pan.
Naturally, I had to think about that. No defrosting? Could that work? It seemed iffy and yet, the Institute has this entire website devoted to these techniques with an army of recipes:
http://www.wildalaskaseafood.com/
So I wondered, if the Institute has invested in research and all these recipes, shouldn't they work? There was only one way to find out. I bought a piece of salmon, fresh salmon. I brought it home and cut in half, lengthwise, so I had two identical pieces with the same profile of thick and thin regions.
I froze one piece and left the other in the fridge. Then I took both pieces out and cooked using the recipe below.
Pretend now you hear a roll of drums: the result? It works. The technique works and works well. I cooked the two pieces of salmon, one fresh and one frozen, in two pans side by side. The frozen piece had a longer cooking time as defined in the recipe below.
Did the two pieces taste the same: almost identical. One piece was just 30 seconds further along than the other, a situation that I created by having two pans and just lagging in getting the salmon off the heat. Both were delicious.
I almost followed the recipe below. I could not use Chardonnay. If I am making sauce with cream and herbs, I'm going sparkling. No Chardonnay for me. Cava all the way.
I had a delicious meal. I will be hitting this website for its abundance of wonderful recipes. So should you. This is a truly excellent resource. The recipes are diverse and sophisticated.
And now we know: fear not the frozen fish.
---
Bronzed Alaska Salmon in a Basil-Wine Sauce

Ingredients:

For the salmon:

2 Alaska Salmon steaks or fillets (4 to 6 oz. each), fresh, thawed or frozen
1 Tablespoon olive oil
Blackened seasoning, to taste
2 tablespoons Chardonnay
For the sauce:

1 teaspoon chopped garlic
½ cup Chardonnay
½ cup heavy cream
2 Tablespoons chopped fresh basil
Salt, to taste
Lemon wedge
Preparation:

Rinse any ice glaze from frozen Alaska Salmon under cold water; pat dry with paper towel. Heat a heavy nonstick skillet over medium-high heat. Brush both sides of salmon with oil. Place salmon in heated skillet and cook, uncovered, about 3 to 4 minutes, until browned. Shake pan occasionally to keep fish from sticking.
Turn salmon over and sprinkle with blackened seasoning, to taste. Cover pan tightly and reduce heat to medium. Cook an additional 6 to 8 minutes for frozen salmon or 3 to 4 minutes for fresh/thawed fish. Cook just until fish is opaque throughout. Remove the pan from the heat and add 2 tablespoons wine. Swirl the salmon fillets in the pan, uncovered, until liquid is evaporated. Remove salmon from the pan and keep warm.
Place the same skillet back on medium-high heat and add the garlic and ½ cup wine. Simmer wine until reduced by two-thirds. Add the cream and basil; simmer sauce until thickened, about two minutes. Season to taste with salt and add the juice of one lemon wedge.
---
Source: wildalaskaseafood.com

Photo Information: Canon T2i, EFS 60mm Macro Lens, F/4 for1/50th second at ISO‑500