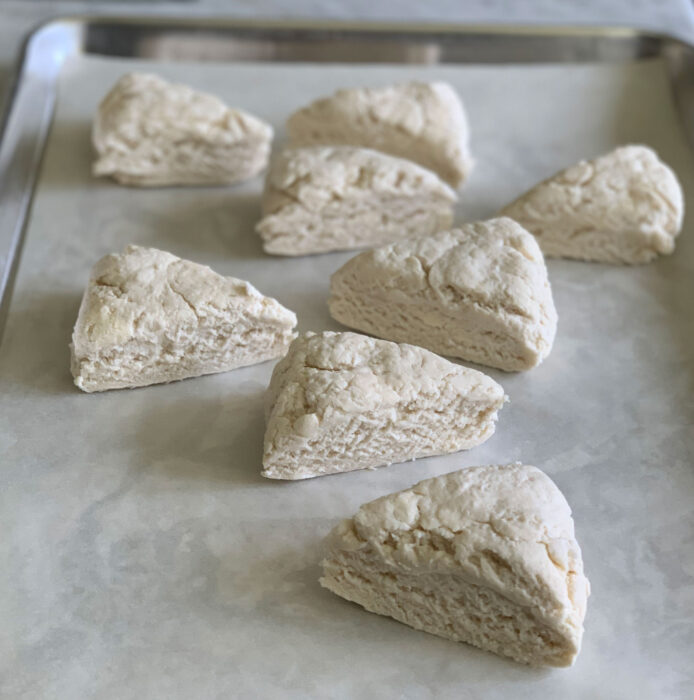 Suzi posted these pictures a couple of days ago and people are clamoring for the recipe. So, I'm posting it. Now, finally.
With the virus, I know we are all at home with all of this time on our hands, but do you find it hard to actually do stuff? I must admit, blogging is hard for me. I'm thinking about when Suzi and I can return to the city — we are upstate in our weekend house in the Catskills, which has become our March house, our April house, our about to be May house, our -oh-my-god-it's-June house, …
I return to food.
And a lesson from life.
"I want biscuits," I had said to Suzi.
"Find me a recipe," she uttered her standard phrase.
"Here's the book," I said. "You pick." Now, I did not just give any book. Not the Joy of Cooking, not the latest Good Housekeeping. No, I gave her Biscuit Bliss by James Villas. Utterly the best biscuit book ever. I've reviewed Biscuit Bliss before and here's the link. You want the book for one of its first recipes: Mother's Buttermilk Biscuits, my favorite. And for radiant gems like Smoked Salmon and Dill Biscuits with Salmon Caviar.
Anyway, I figured Suzi would take the easy path and just make those buttermilk biscuits we both love. I left the kitchen. I returned to the kitchen a few minutes later.
There was a tall  large container of yogurt sitting next to the flour.
"You told me to pick," Suzi said. She had seen the that's-yogurt look of horror on my face. I am not a yogurt person, I love my biscuits, I was ready to protest.
"Trust me," she said in that tone of voice that means shut-up-and-don't-give-one-atom-of-crap.
Well, we now have a new favorite recipe. Golly, but these are good. The buttermilk ones possess that that buttermilk- infused tang. These have a yogurt tang, but it is muted, and the biscuits are soft on the inside. And sweet. The perfect platform for melting butter and strawberry jam.
How long will this be my favorite biscuit? A long time. Unless of course I give Suzi the book again. Biscuit Bliss is that grand a book.
---
Butter-Yogurt Biscuits
Yield: 8-12 depending on size
Ingredients:
2 cups cake flour
3 teaspoons baking powder
1 teaspoon baking soda
½ teaspoon salt
5 tablespoons chilled butter, cut into bits
1 cup plain yogurt (don't use low-fat or nonfat)
Heavy cream and granulated sugar.
Preparation:
Preheat the oven to 475°F. Grease a baking sheet and set aside.
In a large mixing bowl, whisk together the flour, baking powder, baking soda, and salt. Add the butter and cut it in with a pastry cutter or rub with your fingertips till the mixture is mealy. Add yogurt and stir till a soft ball of dough forms. If the dough seems too dry to work with, just add a couple of tablespoons of heavy cream.
Transfer the dough to a lightly floured work surface and knead about 8 times. Pat out the dough about ¾ inch thick and cut oil rounds with a 2-inch biscuit cutter. Pat the scraps together and cut out more rounds.
Arrange the rounds on the prepared baking sheet about ½ inch apart. Before baking, brush the tops with heavy cream and sprinkle with sugar. Bake in the upper third of the oven till just golden, 10 to 12 minutes
---
Source: Biscuit Bliss by James Villas [Harvard Common Press]
Photo Information: Suzi's iPhone and Brian's Photoshop 2020