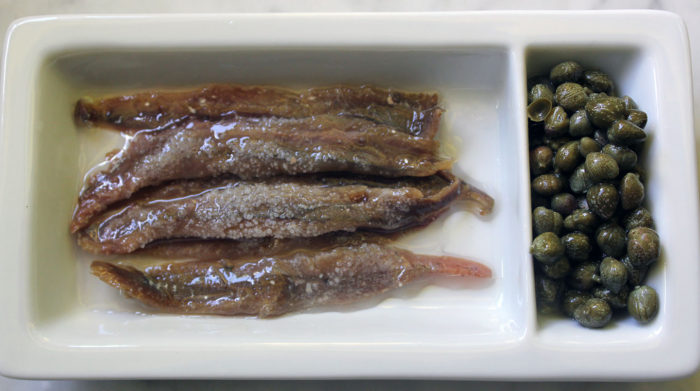 From the new The Wholefood Pantry by the consummate Amber Rose comes this flavor bomb. It's not your traditional Mexican salsa verde. No tomatillo, no cilantro. This one is pure Mediterranean, an amalgam of capers and anchovies blended with garlic, parsley, basil, mint and more.
What to do this combo? I suppose you could dip in a chip or two, but it is truly destined for meat. You can swap out the mint if you have specific protein in mind: use tarragon or dill for fish, rosemary with lamb. You can mix and match herbs in the proportions that make you smile. And salivate.
---
My Favorite Salsa Verde
Yield: serves 4-6
Ingredients:
2 garlic cloves
A small handful of capers (not the salted ones)
7 anchovy fillets
3 handfuls of flat-leaf parsley, leaves picked
A bunch of fresh basil, leaves picked
A handful of fresh mint, leaves picked
1 tablespoon Dijon mustard
3 tablespoons red wine I vinegar
⅔ cup really good extra virgin olive oil
Sea salt and freshly ground black pepper
Preparation:
The traditional and best way to make salsa verde is to chop the garlic, capers, anchovies, and herbs really fine by hand. Put them into a bowl and add the mustard and vinegar, then slowly stir in the olive oil until you get the desired consistency. Taste and adjust the flavors with salt and pepper—you may need a bit more vinegar.
Alternatively, you can make this sauce by simply putting everything into a blender, and blitzing to a lovely sauce, but be careful not to make it too smooth. Taste and adjust the seasoning as necessary.
Serve fresh. I find it tastes best eaten within a day or two.
---
Source: The Wholefood Pantry by Amber Rose [Kyle, 2017]
Photo Information: Canon T2i, EFS 60mm Macro Lens, F/4.5 for 1/50th second at ISO‑320